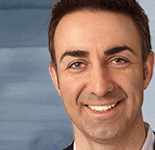 Chris Stutzman
Vice President, Principal Analyst
Sessions Featuring This Speaker
Forrester's Marketing Leadership Forum 2012
04/18/2012
08:45 AM - 09:15 AM

21st-Century Brand Building

Customer-obsessed companies are out-innovating and out-maneuvering their competitors by leveraging consumer-empowering technology to develop new sources of competitive advantage. CMOs and marketing leaders who want to build brands that are differentiated, worthy of price premiums, and capable of sustaining longevity will adapt their brand-building strategies for this age of the customer. Participants will get a fresh perspective on branding in the 21st century as Chris explains how:

Branding and brand building are more important than ever.
Brand-building strategies must become more connected and collaborative.
The brands that win will rethink how to build exposure, influence, engagement, and ecosystems.

01:00 PM - 01:45 PM

Three New Perspectives For Monitoring Your Brand Health In The Digital Age

Big data holds big promise for helping marketers measure and monitor their brand. But we still have a long way to go to figure out what's good and what's garbage. Find out how the 4 "V"s of digital influence are turning brand tracking into a data Mashup, enabling marketers to manage their brand's health in three dimensions: the past, present, and future. Marketing leaders who attend this session will hear Chris present findings from his latest report to answer the following questions:

Is traditional brand tracking still useful?
How can you harness new sources of digital data to monitor brand health?
What is the future of measuring and monitoring brand health?
Research Focus
Chris serves CMO & Marketing Leadership Professionals as well as agency leaders. He is a leading expert on modern brand strategy, digital-era advertising, and the evolving agency landscape.
Previous Work Experience
Chris has more than 17 years of experience in management consulting and advertising. He helps marketers navigate emerging media and technology, transform their advertising strategy, and adapt their organizations for the digital age. Clients such as Facebook, L'Oreal, Kraft Foods, HP, and IBM have turned to Chris for his thought leadership. Additionally, he has worked across a broad spectrum of agencies — including holding companies such as Omnicom and WPP, network agencies such as JWT and DDB, and digital agencies such as Digitas, Rosetta, VML, and Blast Radius — to improve their strategic capabilities, competitive positioning, and new business strategies.

Prior to Forrester, Chris worked in advertising for more than eight years, developing brand strategies and discovering breakthrough consumer insights for clients such as Mars, Michelin, Novartis, and Wachovia. Chris started his career as a management consultant for Accenture, where he developed customer experience and marketing technology strategies for clients such as AT&T and Bell South.

Chris is a member of The Wharton School's Future of Advertising project. He is also a regular contributor to industry publications and events, including Advertising Age CMO Strategy and the ANA.
Education
Chris received an M.B.A. from Duke University and a B.A. in English from Bucknell University.