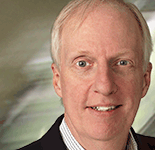 Christopher Mines
Senior Vice President, Research Director
Sessions Featuring This Speaker
Forrester's CIO Forum 2012
05/03/2012
12:00 PM - 01:00 PM

Current Economic Conditions And The Impact On The Tech Market In 2012-2013

The tech market will grow faster than the economies in North America and Europe in 2012 and 2013, and that means tech spending for many firms will outpace their revenues. New technologies of mobile devices, smart computing analytics, software-as-a-service, and collaborative process apps will set the pace, with the consumerization of IT producing complicating wrinkles in demand. Mature technologies like servers and storage, ERP, CRM, and other process apps, and IT systems integration and outsourcing will see more modest growth. CIOs can use this information to understand how quickly the future will arrive, where peers and competitors are spending, and which vendors will be discounting what kinds of products and services. This session highlights:

Forrester's latest tech forecast for the US, Canada, Europe, and the world.
Where and how the adoption of cloud computing, smart computing, mobility, and IT consumerization are shifting IT spending patterns and the overall tech market.
How tech spending will differ by industry, geography, and company size.
Which vendors are well-positioned to exploit these trends — and which ones are not.
Research Focus
Chris leads a team of Forrester analysts focused on the future of software development. Since software is both the platform and portal for customer engagement, speed and continuous improvement of software applications and systems are essential for business success in any industry. His team's research and advisory work identify the platforms, tools, methodologies, and skills that help companies put modern software at the center of their business.
Chris has a 17-year tenure as a Forrester analyst and research leader. He has worked across the organization, including leading the firm's US research organization from 2002 to 2006. His ongoing research interests include technology-driven business transformation, the connected world, and the economics and business models of technology suppliers.
Previous Work Experience
Prior to joining Forrester, Chris was a principal at GeoPartners Research, doing strategy consulting for leading technology companies. During the 1980s, he was with the investment bank Cowen & Company, heading its research coverage of the networking industry. He also worked at The Yankee Group as a telecom industry analyst. He began his career as a member of technical staff at IBM's network software labs.
Education
Chris holds degrees from Harvard's Kennedy School of Government and the University of Pennsylvania.