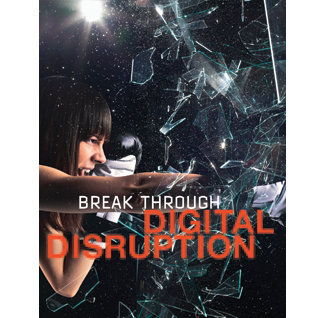 Bringing Disruption To The Enterprise In A Nondisruptive Way
We face a constant onslaught of digital disruption. Firms in every industry — across all geographies — must consider new competitors, new economics, and new customer relationships. Smart business and technology leaders will embrace the assault and turn these forces into strategic business advantage. And as the cornerstone between business and technology innovation, business process and architecture executives should be leading the charge.
Are you ready to embrace the disruption?
Check out this video where Forrester Vice President and Principal Analyst James L. McQuivey, Ph.D., gives a sneak peek into his keynote about making the most of digital disruption.
This Forum has Passed.
EVENT OVERVIEW
Helping your firm compete and thrive in the face of constant disruption is the focus of this year's Business Architecture & Business Process Forum. At this year's Event, Forrester will help you: 1) understand what it takes to innovate business processes across the customer life cycle; 2) create a business and technology architecture that is structured and built for change; 3) identify digital disruptions that help fuel innovation and growth; and 4) learn how to introduce those disruptions into your business in a low-risk, high-impact, and sustainable way.
KEY QUESTIONS THIS EVENT WILL ADDRESS
This Event will include Forrester analysts, technology executives, and your peers answering questions and helping you make better decisions on how you can play a productive role in helping your firm compete and thrive in the face of constant digital disruption.
What must you understand to align your efforts to support your executives' changing competitive strategies?
How can you ensure that your business architecture, business process, and information architecture practices are key enablers for constant change and innovation?
What roles do business process management, content management, big data, and analytics play in creating digital innovations?
What technologies, architectures, processes, and skills do you need to introduce digital disruptions into your organization?
How can you sustain digital innovation while managing within the realities of your current business?
Colocated Events
Forrester's Embracing Digital Disruption: A Summit For Business Architecture & Business Process Professionals attendees receive complimentary access to Forrester's Developing Digital Disruption: A Summit for Application Development & Delivery Professionals. These Events are being held simultaneously to allow you to network with more business leaders, bring additional team members, and access valuable content relevant to your challenges and responsibilities.
Connect With Forrester And Event Attendees
Twitter: #FORRForum
LinkedIn: Network with other attendees.
Blogs: Follow analysts covering your role.
Communities: Extend conversations through your role community.
Facebook: Stay connected through Forrester Events pages.
Who Should Attend?
Business Process Professionals and Enterprise Architecture Professionals.
Why Attend?
Compelling keynotes by industry executives and Forrester analysts.
In-depth track sessions designed for your role.
Networking with more than 350 peers, analysts, and industry executives.
Technology solutions from leading agencies and solution providers.
Attendee Quotes
"An excellent opportunity to meet forrester analysts and industry peers."
Ian B., UNHCR (The UN Refugee Agency)