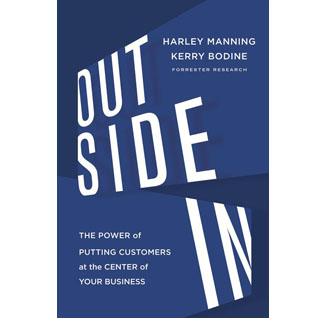 Outside In: The Power Of Putting Customers At The Center Of Your Business
Based on the case studies and analysis in Forrester's upcoming book, this Event will detail specific ways to transform your company so that you can reap the full business benefits of the customer experience revolution. This is not just the same old "focus on the customer" message. It requires a new way to manage companies, looking deep into every process and incentive to see whether it supports the overall goal: to deliver a great customer experience.
Click here to view Harley Manning, Vice President, Research Director, and Forum Co-Host, talk about bringing business discipline to customer experience.
This Forum has Passed.
EVENT OVERVIEW
For decades, companies have been paying lip service to the idea of delighting customers, but at the same time, they've been disappointing them in nearly every channel. That tactic won't cut it anymore. Why not? We've entered a new era that Forrester calls the age of the customer — a time when focus on the customer matters more than any other strategic imperative.
Recent market shifts have forced companies to compete not just on product features but on the quality of customer interactions. But organizations overwhelmingly fail to see the whole picture — how the back office, trusted business partners, incentive programs, and entrenched business processes undermine the desire to improve that customer experience.
At this Event, we'll confront a new imperative: creating and nurturing a system of interdependent, self-reinforcing practices that align internal employees and external partners — and the processes, policies, and technology that enable them to do their jobs — around customers. This is not just the same old "focus on the customer" message. It requires a new way to manage companies, looking deep into every process and incentive to see whether it supports the overall goal: to deliver a great customer experience.
The Forum will feature best practices, case studies, and tools from Forrester's upcoming third book, Outside In: The Power of Putting Customers at the Center of Your Business, and attendees will receive a complimentary digital copy of the book to take home with them before its official release.
Key Questions This Forum Will Answer
Why is customer experience the greatest untapped source of cost savings and increased revenue today?
What is the key to understanding and taking control of your customer experience ecosystem?
What are the six essential customer experience disciplines?
Which companies have adopted best-in-class customer experience practices?
How do customer experience strategies drive differentiating activities and processes at top companies?
Which organizations appoint a chief customer officer to lead their customer experience efforts?
What is the future of customer experience?
How can you design an enterprisewide customer experience?
How can you measure the results of your customer experience efforts?
VOICE OF THE CUSTOMER AWARDS
Forrester's fourth annual Voice Of The Customer Awards recognize organizations that excel in collecting, analyzing, and acting on feedback from their customers — incorporating customer insights into their everyday decisions. This year's awards will be presented at Forrester's Customer Experience Forum in New York City. Previous winners include Adobe Systems, Fidelity Investments, JetBlue Airways, American Express, CDW, and Dell. For More Information Visit http://www.forrester.com/VoC_main.
Connect With Forrester And Event Attendees
Twitter:#outsidein
LinkedIn: Network with other attendees.
Blogs: Follow analysts covering your role.
Communities: Extend conversations through your role community.
Facebook: Stay connected through Forrester Events pages.
Who Should Attend?
Chief customer officers and other executives in charge of enterprisewide customer experience.
Customer Experience Professionals who work on digital channels like websites and mobile apps.
Senior-level executives who are responsible for setting organizational strategy.
Business executives who set objectives for driving consumer sales and profitability.
Executives who lead eCommerce initiatives.
Marketing and strategy executives charged with understanding the needs of their customers.
Why Attend?
C-level keynotes from Fortune 1000 executives.
Role-based and industry track sessions.
One-On-One Meetings with more than 30 Forrester analysts.
Peer networking with more than 900 attending executives and professionals.
Attendee Quotes
"Great event as always. The content is stellar, relevant and of high quality. Really like the guest speakers who show how to put best practices into practice."
Sophia P., Project Manager, Customer Experience
"Overall one of the best conference experiences I have had in my 35-year career. A great customer experience."
Kim H., Senior Vice President, Customer Experience
"This program was comprehensive with very relevant content to my role of Customer Experience Manager. Speakers overall were fantastic and passionate, which is key!"
Jason K., Customer Experience Manager
Interested in attending ?
Download a letter to request approval from your manager