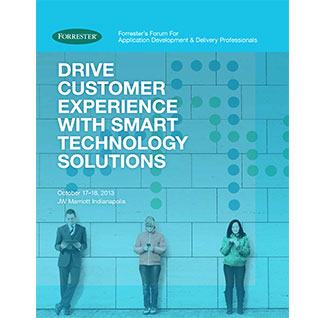 Drive Customer Experience With Smart Technology Solutions
In the Age of the Customer, market leading strategies for mobile, big data, and customer experience are now required to satisfy an increasingly demanding client base.
You have a central role to play as a leader of solution delivery. Business leaders will increasingly look to your technology groups for solution expertise. It will be you that shapes how your firm designs and delivers the customer experience.
This Forum will focus on the top technologies, skills and practices you will need to take a leadership role in the development of world-class customer experiences at your company.
This Forum has Passed.
Event Overview
This year's Forum is designed to help you meet and exceed the demands of your business leaders. You'll learn how to:
Build new design competencies, architectures, and teams focused on the customer experience.
Turn big data and analytics into business strategies.
Design and deliver world-class digital and mobile solutions.
Create sustainable, agile platforms and solutions.
Why Attend A Forrester Event
Accelerate your success. Through keynote and track sessions led by Forrester analysts, we deliver thought leadership and practical advice designed for your role that you can apply to your business challenges the day you return to the office.


Learn from your peers and other experts in the field. Industry speakers, who are dealing with the same challenges as you, will share their success stories and respond to your questions.


Engage with Forrester analysts. Through prescheduled 1-On-1 Analyst Meetings, you can engage with Forrester analysts to work through how to apply what you are learning at the Forum when you are back at your company.


Connect with peers. During discussions and roundtables or over a drink, share and gain knowledge and new perspectives from a network of peers — more than 200 delegates attend — facing similar challenges.


Get exclusive first look at new research and survey data. Be the first to hear about Forrester's latest big ideas and survey results.
Connect With Forrester And Event Attendees
Twitter: #FORRForum
Blogs: Follow analysts covering your role.
Communities: Extend conversations through your role community.
Who Should Attend?
VPs and directors of application development and delivery.
Leaders of enterprise, application, data, and solution architecture.
Technology decision-makers supporting sales and marketing.
Technology leaders of web, digital, and mobile initiatives.
Attendee Quotes
"It was very helpful in understanding digital disruption and how organizations are responding. It showed that many organizations are facing the same challenges. The networking opportunities were great!!"
— Glynis Coutee, Director of Architecture and Consulting, TransAmerica
"The overall topic and the more granular session topics were very relevant to the challenges I face every day."
— Kevin Scott, Director of Application Shared Services, Select Comfort Corporation
"Well organized. Good options to choose from."
— Charles Turnage, Director of Application Architecture, Mead Westvaco