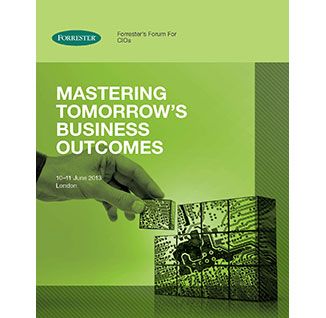 Mastering Tomorrow's Business Outcomes
Many tech savvy business leaders are bypassing IT and acquiring technology to drive unique customer interactions, engage business partners, and allow employees to do their jobs more effectively. These differentiated business capabilities are complex. They require many tradeoffs, implementation choices, and organizational changes.
Now is the time for CIOs to lead their organizations in developing efficient and resilient technologies and processes focused on business outcomes.
This Forum has Passed.
Event Overview
Business decision-makers indicate technology as a key source of innovation and growth for their organizations. Today, these are common measures of success for a CIO. In order for CIOs to master tomorrow's business outcomes, they cannot simply acquire the right technologies. They must transform technology investments into business capabilities, at low cost, with minimum risk, and in the shortest possible time.
At this Forum, Forrester analysts and industry executive speakers will help you design and drive capabilities and culture within the business technology organization.
What Attendees Will Gain
Key takeaways will include:
Understanding business strategies and partnering on solutions that drive performance improvement and business value.
Building an end-to-end shared business services model that focuses on taking the journey from problem to outcome.
Developing outcome-based organization design, governance structures, and innovation capabilities.
Harnessing emerging social, mobile, and cloud technologies and platforms to reinforce the outcome-based culture and processes.
Fostering agility, security, transparency, and efficiency while serving citizens in public sector organizations.
Why Attend A Forrester Forum
Accelerate your success. Through keynote and track sessions led by Forrester analysts, we deliver thought leadership and practical advice designed for your role that you can apply to your business challenges the day you return to the office.

Learn from your peers and other experts in the field. Industry speakers — who are dealing with the same challenges as you — will share their success stories and respond to your questions.

Engage with Forrester analysts. Through prescheduled 1-On-1 Analyst Meetings, you can engage with Forrester analysts to work through how to apply what you are learning at the Forum when you are back at your company.

Connect with peers. During discussions and roundtables or over a drink, share and gain knowledge and new perspectives from a network of peers — more than 250 delegates attend — facing similar challenges.

Get exclusive first look at new research and survey data. Be the first to hear about Forrester's latest big ideas and survey results.
Connect With Forrester And Event Attendees
Twitter: #FORRForum
Blogs: Follow analysts covering your role.
Communities: Extend conversations through your role community.
Who Should Attend?
CIOs
Chief business technology officers
Chief technology officers
SVPs and VPs of information technology
Directors of IT
Attendee Quotes
"Forrester analysts do an excellent job – complex issues explained and debated in simple terms."
David Kamath, CIO, IDEX Corp
"Well worth my time. Overall I enjoyed the day and learned a lot. I look forward to attending next year."
Todd S. Cieplinski, President, Universal Mind
"Well worth my time. Overall I enjoyed the day and learned a lot. I look forward to attending next year."
Todd S. Cieplinski, Universal Mind, President
"Thought provoking and entertaining. A worthwhile event — very content heavy, but well presented and managed."
David Booth, North American Construction Group, CIO