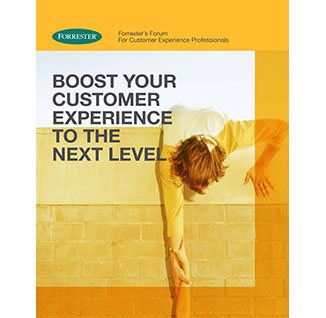 This event is SOLD OUT.
To add your name to our wait list please choose "REGISTER" in the box to the right and fill out our wait list form, or email eventsEMEA@forrester.com.
This Forum has Passed.
Event Overview
Forrester's Customer Experience Index shows that 2012 was a weak year for most companies — at least as far as their customers were concerned: Consumers rated 61% of the brands they do business with as OK, very poor, or poor.
But the story was very different for firms that boosted their customer experience to the next level. What was the secret behind how these companies boosted their customer experience? They applied business discipline to move up the CX maturity curve and into a new level, one that helps them differentiate against their competitors.
Why boost your customer experience to the next level?
Emirates, one of the fastest-growing airlines in the world, used customer journey maps to align its multicultural workforce. BBVA used advanced prototyping techniques to make its customer experience strategy come alive, opening the door to new product and market opportunities for its banking business. Virgin Media focused on improving its ecosystem that supports six critical customer journeys, from subscribing to services to getting help — and as customers flocked to sign up for its bundled services, Virgin's stock prices soared over a 12-month period.
What Attendees Will Gain
Through keynote speeches and track sessions, attendees will learn how to get their customer experience programs to the next level, whether they're starting from scratch or in the midst of a transformation.
They'll hear:
How companies launch customer experience initiatives that deliver measurable ROI, building support for the next round of efforts.
How to determine your organization's level of customer experience maturity and create a road map to your vision of success.
How the best of the best customer experience leaders overhaul their strategies, organizations, and processes to get on top and stay there.
Why Attend A Forrester Event
Accelerate your success. Through keynote and track sessions led by Forrester analysts, we deliver thought leadership and practical advice designed for your role that you can apply to your business challenges the day you return to the office.
Learn from your peers and other experts in the field. Industry speakers, who are dealing with the same challenges as you, will share their success stories and respond to your questions.
Engage with Forrester analysts. Through prescheduled 1-On-1 Analyst Meetings, you can engage with Forrester analysts to work through how to apply what you are learning at the Forum when you are back at your company.
Connect with peers. During discussions and roundtables or over a drink, share and gain knowledge and new perspectives from a network of peers — more than 250 delegates attend — facing similar challenges.
Get an exclusive first look at new research and survey data. Be the first to hear about Forrester's latest big ideas and survey results.
Connect With Forrester And Event Attendees
Twitter: #FORRForum
Blogs: Follow analysts covering your role.
Communities: Extend conversations through your role community.
Who Should Attend?
Chief customer officers
VPs and directors of enterprisewide customer experience
Senior-level executives responsible for digital channels
Senior-level executives responsible for setting organizational strategy
Senior-level executives responsible for driving consumer sales and profitability
Marketing and strategy leaders charged with understanding customers' needs
Attendee Quotes
"Two days chock-full of information that is directly applicable for my job, complete with clear tangible takeaways I can implement right away."
— Heather Conneran, Senior Customer Experience Planner, Aimia
"The forum brought some real golden nuggets to light. It made me realize it is not just us — everyone is just at the beginning."
— Mario Streng, Market Research & Insight Executive, British Airways
"Lots of new insight. Many actionable ideas to take back to my client experience steering committee. Well worth the two days."
— Patricia Hudson, SVP, Mechanics Bank
Need More Proof?
Listen to attendees share why they attend Forrester Forums here.
Then, prepare for the Forum with these customer experience tools, videos, and reports.