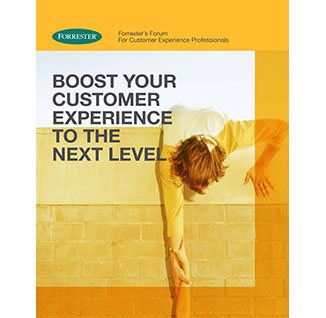 Boost Your Customer Experience To The Next Level
Forrester's Customer Experience Index shows that 2012 was a weak year for most companies. Consumers rated 61% of the brands they do business with as OK, very poor, or poor.
But the story was very different for some firms. Southwest Airlines, USAA, and Vanguard led their respective industries by wide margins, while value brands including Marshall's, Courtyard by Marriott, Sam's Club, and Target dominated the "excellent" category. Their secret? They took proactive steps to boost their customer experience to the next level.
This Forum has Passed.
"You can take customer experience from a bumper sticker to a competitive advantage — if you apply business discipline"

Harley Manning
Forum Host
Vice President, Research Director
Forrester Research
Event Overview
Why boost your customer experience to the next level? It's not just a feel-good story. Over a recent five-year period during which the S&P 500 was flat, a stock portfolio of customer experience leaders grew 22%. During this Forum, Forrester will reveal how these leaders were successful, and what you can do in your company now to start seeing similar results.
Tony Ezell
Vice President, Chief Customer Officer
Eli Lilly
Transforming Your Culture Around Customer Experience
Telling your employees to be customer centric is not enough. To truly evolve, you must systematically work to change your culture from the inside out. Learn how Lilly is approaching this change to ensure every employee understands how their work impacts the experiences and outcomes of the people they serve.
Tony Ezell joined Lilly in 1992, and has held many roles in sales, marketing and general management. From 1999 to 2007, Ezell held various leadership positions including executive director of marketing for the US endocrine business unit, as well as business unit leader of the US acute care business.
What Attendees Will Gain
Through keynote speeches and track sessions, attendees will learn how to get their customer experience programs to the next level, whether they're starting from scratch or in the midst of a transformation.
They'll hear:
How companies launch customer experience initiatives that deliver measurable ROI, building support for the next round of efforts.
How to determine your organization's level of customer experience maturity and create a road map to your vision of success.
How the best of the best customer experience leaders overhaul their strategies, organizations, and processes to get on top and stay there.
New this year! Learn which companies earned Outside In Awards for customer experience excellence and how they did it.
Why Attend A Forrester Event
Accelerate your success. Through keynote and track sessions led by Forrester analysts, we deliver thought leadership and practical advice designed for your role that you can apply to your business challenges the day you return to the office.
Learn from your peers and other experts in the field. Industry speakers, who are dealing with the same challenges as you, will share their success stories and respond to your questions.
Engage with Forrester analysts. Through prescheduled 1-On-1 Analyst Meetings, you can engage with Forrester analysts to work through how to apply what you are learning at the Forum when you are back at your company.
Connect with peers. During discussions and roundtables or over a drink, share and gain knowledge and new perspectives from a network of peers — more than 450 delegates attend — facing similar challenges.
Get exclusive first look at new research and survey data. Be the first to hear about Forrester's latest big ideas and survey results.
Connect With Forrester And Event Attendees
Twitter: #FORRForum
Blogs: Follow analysts covering your role.
Communities: Extend conversations through your role community.
Who Should Attend?
Chief Customer Officers
VPs and directors of enterprisewide customer experience
Senior-level executives responsible for digital channels
Senior-level executives responsible for setting organizational strategy
Senior-level executives responsible for driving consumer sales and profitability
Marketing and strategy leaders charged with understanding customers' needs
Attendee Quotes
"Two days chock-full of information that is directly applicable for my job, complete with clear tangible takeaways I can implement right away"
— Heather Conneran, Senior Customer Experience Planner, Aimia
"The forum brought some real golden nuggets to light. It made me realize it is not just us – everyone is just at the beginning."
— Mario Streng, Market Research & Insight Executive, British Airways
"Lots of new insight. Many actionable ideas to take back to my client experience steering committee. Well worth the two days."
— Patricia Hudson, SVP, Mechanics Bank
Tell Your Colleagues
Customer enagements are driven by smart technology solutions. So be sure to tell your business technology counterpart about
Forrester's Forum For Application Development & Delivery Professionals October 17-18, 2013 in Indianapolis, IN.