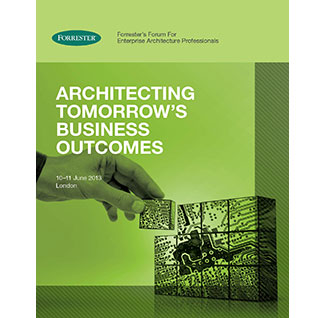 Architecting Tomorrow's Business Outcomes
The drumbeat of business change is speeding up. Digital technology — social, mobile, analytics, cloud, and devices — disrupts business models and value streams, introduces new competitive threats, and comes with new demands from your customers and employees.
You have to develop new strategies, new architectures, new competencies, and new ways to guide your business forward. You must now play a pivotal role in architecting business outcomes.
This Forum has Passed.
Event Overview
Digital technology changes the path your business must take to achieve outcomes. Business growth demands using information to build customer loyalty, predict new opportunities and possibilities, and deliver engaging experiences across channels and touchpoints. Business optimization rests on smarter business processes and application foundations to support future business change. On top of this, your business leaders need you to chart out your path for embedding digital capability into future products and services.
At this Forum, Forrester analysts and industry executive speakers will help you address the challenges that tomorrow's digital technology brings to your business.
What Attendees Will Gain
Attendees will gain insight into:
Top trends in customer experience design and demands on architecture for multichannel and touchpoint engagements.
Future architecture implications of connected products, services, and society.
Techniques to build business engagement as you co-design foundations for business execution.
Methods to navigate emerging technologies to innovate products and services, engage customers, and redefine work.
Where to apply big data, analytics, content, and digital experience technologies to support growth and engagement.
The role that cloud, BPM, mobile, and social technologies play in solution architectures that optimize the business.
Why Attend A Forrester Forum
Accelerate your success. Through keynote and track sessions led by Forrester analysts, we deliver thought leadership and practical advice designed for your role that you can apply to your business challenges the day you return to the office.

Learn from your peers and other experts in the field. Industry speakers — who are dealing with the same challenges as you — will share their success stories and respond to your questions.

Engage with Forrester analysts. Through prescheduled 1-On-1 Analyst Meetings, you can engage with Forrester analysts to work through how to apply what you are learning at the Forum when you are back at your company.

Connect with peers. During discussions and roundtables or over a drink, share and gain knowledge and new perspectives from a network of peers — more than 250 delegates attend — facing similar challenges.

Get exclusive first look at new research and survey data. Be the first to hear about Forrester's latest big ideas and survey results.
Connect With Forrester And Event Attendees
Twitter: #FORRForum
Blogs: Follow analysts covering your role.
Communities: Extend conversations through your role community.
Who Should Attend?
Chief technology officers
Chief architects
Strategic planning leaders
Enterprise architects
Business architects
Leaders of information and data architecture
Solution and application architects
Leaders of development and delivery
Attendee Quotes
"Excellent forum, quality content and delivery; this was my first time for attending this event will certainly lobby to attend again in the future."
Dennis Johnson, Systems Architect, Wellmark Blue Cross & Blue Shield of Iowa
"Extremely well organized. Top notch speakers. Pertinent and targeted topics."
Kari Williams, VP of Enterprise Architecture, Travelers
"Great speakers, great ideas, real knowledge transfer."
Charles Smith, Department of Homeland Security, IT Specialist
"Excellent forum, quality content and delivery; this was my first time for attending this event will certainly lobby to attend again in the future."
Dennis Johnson, Wellmark Blue Cross & Blue Shield of Iowa, Systems Architect
"Extremely well organized. Top notch speakers. Pertinent and targeted topics."
Kari Williams, Travelers, VP of Enerprise Architecture
"Excellent forum with a great surrounding. Content delivered in a condensed and easy to consume way."
Benjamin Wilk, SAP Global Marketing, Senior Business Analyst