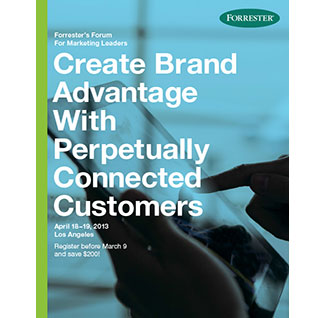 Create Brand Advantage With Perpetually Connected Customers
Last year, more than one-third of US online adults accessed the Internet from multiple physical locations multiple times a day. These new, perpetually connected customers provide endless marketing opportunities.
At this year's Forum For Marketing Leaders, Forrester will help you prioritize best practices to meet the high expectations of today's perpetually connected customers.
This Forum has Passed.
Event Overview
New, perpetually connected customers provide endless marketing opportunities, but when every moment is an addressable medium, how do you target the right moments to build relevance? How do you avoid the backlash from people who feel bombarded by your messaging? And how do you pick the right emerging technologies and marketing skills to build relevance with customers at exactly the right point in time? Get them wrong, and you will watch your competitors steal your share. At Forrester's Forum For Marketing Leaders 2013, we will unveil how to get these things right and drive enduring brand advantage with today's perpetually connected customers.
Forrester will help you prioritize:
Media planning and optimization techniques for creating relevance and brand preference.
Targeting strategies to engage your customers across all types of addressable media.
Tips to avoid a privacy backlash.
New Research To Be Launched
At this year's Forum For Marketing Leaders, Forrester will launch our newest big idea report. This report includes the Mobile Mind Shift Index, which measures the level of connectivity across different customer segments and the speed with which they're moving toward perpetual connectivity.
Why Attend A Forrester Forum
Accelerate your success. Through keynote and track sessions led by Forrester analysts, we deliver thought leadership and practical advice designed for your role that you can apply to your business challenges the day you return to the office.
Learn from your peers and other experts in the field. Industry speakers, who are dealing with the same challenges as you, will share their success stories and respond to your questions.
Engage with Forrester analysts. Through prescheduled 1-On-1 Analyst Meetings, you can engage with Forrester analysts to work through how to apply what you are learning at the Forum when you are back at your company.
Connect with peers. During discussions and roundtables or over a drink, share and gain knowledge and new perspectives from a network of peers — more than 600 delegates attend — facing similar challenges.
Get exclusive first look at new research and survey data. Be the first to hear about Forrester's latest big ideas and survey results.
Connect With Forrester And Event Attendees
Twitter: #FORRForum
Blogs: Follow analysts covering your role.
Communities: Extend conversations through your role community.
Who Should Attend?
Marketing leaders with brand responsibilities.
VPs and directors of marketing communications and media.
VPs and directors of digital and interactive marketing.
Senior marketing leaders responsible for marketing innovation.
Attendee Quotes
"It was an excellent chance to see industry-leading brands tell us why they are leading — how they think, what they experiment with."
— Laurie Hermance-Moore, Associate Director, Resource Interactive
"Very useful, actionable ideas addressing issues I have been grappling with. Lots to take back and share."
— Patricia Hudson, SVP, Mechanics Bank
"Very well organized and an excellent collection of presenters. It was tough deciding which track sessions to attend because so many were relevant."
— Robert Harris, Assistant Director, The Regence Group