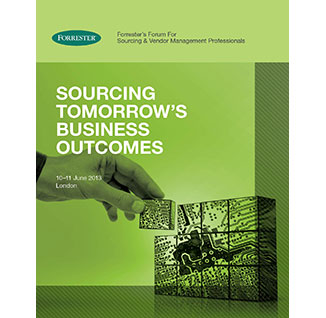 Sourcing Tomorrow's Business Outcomes
Your leaders demand new strategies, new architectures, new ecosystems, and new competencies. You now play a central role defining and executing on new sourcing strategies to deliver tomorrow's digital-fueled business outcomes in the digital age.
This Forum has Passed.
Event Overview
Digital capability — social, mobile, cloud, data, and analytics — disrupts business models and value streams, introduces new competitive threats, and comes with new demands from your customers and employees. Digital also changes the path your leaders must take to achieve future business outcomes. Developing these digital capabilities requires sourcing professionals to access the strengths of their supplier ecosystem. Cost reduction outcomes now rest on maximizing value from strategic partners and on leveraging emerging models to transfer costs and ownership. And innovation increasingly now rests with accessing cutting-edge supplier capabilities embedding digital capability into future products and services.
At this Forum, Forrester analysts and industry executive speakers will help you learn how to address tomorrow's digital-fueled business outcome challenges and how you can play a more relevant and vocal role with your business leaders.
What Attendees Will Gain
Key takeaways will include:
Tomorrow's business outcomes — learn from our research and industry speakers about what business outcomes executives seek and what technology competencies they demand.
New ecosystem demands — understand how future business outcomes demand new partner ecosystems that change the nature of strategic relationships.
Innovation through sourcing — learn new strategies from structuring managed outcome relationships through seeking new partners to deliver tomorrow's digital-fueled business outcomes.
Impact of digital technology on today's sourcing strategy — understand how emerging technologies impact existing relationships with providers.
Why Attend A Forrester Forum
Accelerate your success. Through keynote and track sessions led by Forrester analysts, we deliver thought leadership and practical advice designed for your role that you can apply to your business challenges the day you return to the office.

Learn from your peers and other experts in the field. Industry speakers — who are dealing with the same challenges as you — will share their success stories and respond to your questions.

Engage with Forrester analysts. Through prescheduled 1-On-1 Analyst Meetings, you can engage with Forrester analysts to work through how to apply what you are learning at the Forum when you are back at your company.

Connect with peers. During discussions and roundtables or over a drink, share and gain knowledge and new perspectives from a network of peers — more than 250 delegates attend — facing similar challenges.

Get exclusive first look at new research and survey data. Be the first to hear about Forrester's latest big ideas and survey results.
Connect With Forrester And Event Attendees
Twitter: #FORRForum
Blogs: Follow analysts covering your role.
Communities: Extend conversations through your role community.
Who Should Attend?
Line-of-business leaders driving services and sourcing decisions
Sourcing executives identifying and selecting service providers
Procurement leaders executing strategies, negotiating contracts, and setting prices
Vendor management professionals responsible for managing supplier performance
Attendee Quotes
"Great forum for the vendor management professionals to meet and understand the challenges and solutions that your peers have in place."
Kedarnath Iyer, Sr. Service Assurance Analyst, E.ON Energy Trading
"Great event, looking forward very valuable trends and presentations, great speakers, the agenda, sessions and content are very well designed to get valuable and actionable take away lessons and data for my organization."
Nadir Ammour, Monitoring Systems and Data Flow, Head Of Data Flow, Sanofi Aventis Group
"Great forum for the vendor Mgmt professionals to meet and understand the challenges and solutions that your peers have in place."
Kedarnath Iyer, E.ON Energy Trading, Sr. Service Assurance Analyst
"Great event, looking forward very valuable trends and presentations, great speakers, the agenda, sessions and content are very well designed to get valuable and actionable take away lessons and data for my organization."
Nadir Ammour, Sanofi Aventis group, Monitoring Systems and Data Flow, Head Of Data Flow