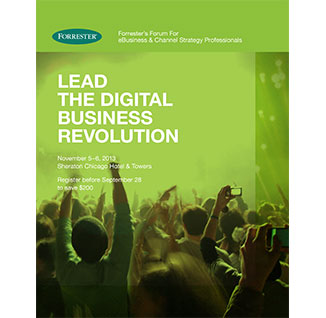 Lead The Digital Business Revolution
Digital will become the backbone of your entire business strategy. More than half of eBusiness & Channel Strategy Professionals we speak with agree, yet a mere 20% have mastered yesterday's basics, such as a seamless handoff between channels. Do you have what it takes to win in the digital business revolution?
This Forum will provide eBusiness & Channel Strategy Professionals the direction they need to lead their firm's move to digital dominance. Attendees will learn how to lead the transformation of their firm's digital sales and service strategies — and in the process, overhaul their customer relationships.
This Forum has Passed.
What Attendees Will Gain
At this year's Forum For eBusiness & Channel Strategy Professionals, Forrester will help you:
Understand the new demands of today's consumers.
Lead your company's digital revolution.
Craft next generation mobile services.
Reshape your organization and internal relationships to drive your success.
Master best practices in B2B digital sales and service.
WHAT NEW RESEARCH WILL BE LAUNCHED
Report: "The Digital Business Imperative"
New data: Insights from our recent survey of more than 150 eBusiness & Channel Strategy Professionals on their digital transformation readiness and maturity and the latest from our ongoing consumer research.
Learn More About Digital Leadership
Read AdAge article "Don't Hide Behind A Chief Digital Officer" by Forrester's Carrie Johnson and Martin Gill to learn more about a key Forum topic.
Connect With Forrester And Event Attendees
Twitter: #FORRForum
Blogs: Follow analysts covering your role.
Communities: Extend conversations through your role community.
Who Should Attend?
eBusiness & Channel Strategy Professionals
VPs and directors of eCommerce
VPs and directors of eBusiness
VPs and directors responsible for digital sales and service strategies
Senior digital strategy leaders
Attendee Quotes
"Overall the event exceeded my expectations on the first day. Each session, one after the next, both provided me with great ideas and inspiration and validated some of the recommendations I have already made."
— Julie Katz, Consumer Insights Manager, LEGO
"Forrester continues to expand my mind with relevant thinking, content, and concepts."
— Christopher Gorz, Director, Corporate Marketing Communications, Hospira