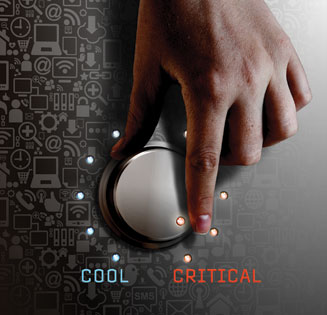 Empowering you, the marketer, to achieve competitive advantage in the age of the customer.
Turn up the heat from lukewarm experimentation to fully baked strategies that deliver results. At Forrester's Marketing Leadership Forum 2012, you will hear case studies from industry leaders and see demonstrations from leading and innovative companies that will show you what works on the path from cool to mission-critical.
Click here to view Chris Stutzman, Principal Analyst, talk about 21st- Century Brand Building, the title of his upcoming keynote presentation.
This Forum has Passed.
EVENT OVERVIEW
In the second digital decade — which we are now in — the customer is in control. The onus is on marketers to engage customers and their rapidly growing use of old and new access points to discover, explore, buy, and engage with brands. By 2016, digital marketing will make up more than 30% of total dollars spent on marketing and advertising in the US alone (as much money as is spent on TV today). And with digitization comes the disintegration of existing business models and competitive moats. The one true source of defensible advantage is customer obsession, powered by an unending stream of data on what they do, what they want, and how to serve them.
To win in the next digital decade, marketers must extend customer obsession to make all the parts work — to tie customer knowledge into the product design, customer experience, and marketing messages in ways not previously possible — to deliver a single, personal brand experience to each customer that the company chooses to serve. From the creative execution, to the development of rich content, to managing media budgets, and finally delivering highly personalized experiences, companies must merge customer knowledge and insight into the core processes of the company in order to provide the visible value demanded by consumers as they stand in a store, call customer service, check their mobile phone, and consume ads simultaneously.
KEY QUESTIONS THIS FORUM WILL ANSWER
At this Event, Forrester analysts and marketing executives will answer important questions about how marketing must survive and thrive in the age of the customer, including:
How can you assess consumer uptake of new innovations?
How do you build deep customer knowledge to drive competitive advantage?
How do you drive deep, personalized customer engagement?
What is more valuable — eyeballs or engagement?
How do business customers engage in new media types?
How can you tie social data to corporate data?
Who should lead the movement to customer obsession?
How should you shift your planning and measurement approaches to accommodate more data and a higher signal-to-noise ratio?
What role does technology play in customizing and synchronizing marketing efforts across channels?
COLLOCATED EVENTS
Forrester's Marketing Leadership Forum attendees receive complimentary access to Forrester's Customer Intelligence Forum. These Events are being held simultaneously to allow you to network with more business leaders, bring additional team members, and access valuable additional content relevant to your challenges and responsibilities.
NETWORKING OPPORTUNITIES
Acxiom's Welcome Cocktail Reception
Be sure to join us Tuesday night to kick-off the event with networking and cocktails.
When: Tuesday, April 17th from 5:30-7:00 p.m.
Where: The Mixing Lounge (Inside the JW Marriott Los Angeles L.A. LIVE)
Forrester's Night Out In L.A. LIVE - ESPN Zone
Join us on Wednesday, April 18th from 7-11 p.m. for a buffet dinner, beer and wine, free games, and over 150 large-screen HD TVs. Just steps away from the JW Marriott, ESPN Zone is a unique world where sport is king. Special guest passes may be purchased. Email events@forrester.com for more details.
Who Should Attend?
CMO & Marketing Leadership Professionals who define the marketing vision and prioritize innovations.
Customer Intelligence Professionals who are responsible for generating customer insights and informing action.
Interactive Marketing Professionals who manage experimentation and introduce emerging media to the larger organization.
Market Insights Professionals seeking to identify the trends in emerging media and how they affect customer research.
Technology Marketing Professionals responsible for reaching high-tech buyers.
Ad agencies and marketing technology and service providers seeking to drive marketing innovation through the application of emerging media.
Why Attend?
C-level keynotes from Fortune 1000 companies.
Role-based breakout sessions designed to help you put engagement into practice.
One-On-One Meetings with more than 30 Forrester analysts.
Peer networking with 500 attending executives.
Attendee Quotes
"Every time I attend the Marketing Forum, I get exposed to new concepts that expand my thinking, which helps me better shape the vision of interactive marketing for my organization."
Christopher G., Director, Strategic Marketing Communication
"Great Event as usual for Forrester — very relevant content. Access to analysts was great throughout the Event."
Bronwyn A., Director, Analyst Relations
"Overall, a very motivating and stimulating Forum."
Dave P., Manager, Marketing Communications