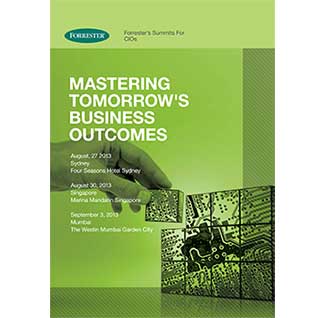 Mastering Tomorrow's Business Outcomes
Now is the time for CIOs in Australia and New Zealand to lead their organizations in developing efficient and resilient business capabilities. Acquiring the right technologies is no longer enough. Today's CIOs need to align their IT departments with strategic initiatives in order to drive innovation.
At this Summit, attendees will learn how to master business outcomes for their organizations by raising their influence, developing their technologies, and refining their processes.
Click here to hear Khalid Kark speak on the upcoming summit!
This Forum has Passed.
WHAT ATTENDEES WILL LEARN
At this Summit, CIOs will learn how to:
Develop outcome-based organization design and innovation capabilities.
Implement strategic solutions that drive performance improvement and business value.
Harness emerging social, mobile, and cloud technologies to reinforce outcome-based culture and processes.
Build an end-to-end shared business services model that focuses on taking the journey from problem or opportunity to outcome.
WHY ATTEND
Accelerate your success. Through keynote and track sessions led by Forrester analysts, we deliver thought leadership and practical advice designed for your role that you can apply to your business challenges the day you return to the office.
Learn from your peers and other experts in the field. Industry speakers, who are dealing with the same challenges as you, will share their success stories and respond to your questions.
Engage with Forrester analysts. Speak with Forrester analysts to work through how to apply what you are learning at the Summit when you are back at your company.
Connect with peers. During discussions and roundtables or over a drink, share and gain knowledge and new perspectives from a network of peers facing similar challenges.
Get an exclusive first look at new research and survey data. Be the first to hear about Forrester's latest big ideas and survey results.
Who Should Attend?
Chief information officers
Chief technology officers
Chief architects
Senior IT leaders: general managers, senior vice presidents, vice presidents, and directors
Attendee Quotes
"Very insightful look at trends and direction in BT. Very useful to reflect on."
Rick V., CIO