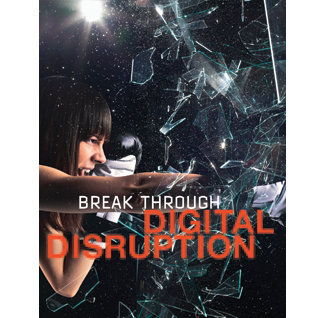 Accelerating Growth Through Disruptive Change
Digital disruption is forcing business leaders in every industry to rethink their strategy. Music, media, and publishing have been turned upside down. Weak governments have been upended. Now, nondigital products and services — from airlines to automobiles — must consider new competitors, new economics, and new customer relationships. Forrester's Digital Disruption Event will help you lead the charge as your business seeks to turn these forces of disruption into strategic business advantage.
This Event is designed to bring together CIOs and business technology leaders from different companies to foster an executive-level dialogue on a future disrupted by digital.
Check out this video where Forrester Vice President and Principal Analyst James L. McQuivey, Ph.D., gives a sneak peek into his keynote about making the most of digital disruption.
This Forum has Passed.
EVENT OVERVIEW
Are you prepared to be the disruptor, or will you be disrupted?
Helping your firm compete and thrive in the face of disruption is the focus of this year's Forum for technology leaders. At this year's Event, Forrester will help you: 1) learn how to harness radical changes in technology, governance, and organization that will prepare you for disruption; 2) align your business and technology strategies to fuel growth; 3) embrace new systems of engagement that improve customer relationships; and 4) bring agility to your planning and execution to help you become customer-obsessed and outpace your competitors in the age of the customer.
KEY QUESTIONS THIS EVENT WILL ADDRESS
How must strategic business planning adapt to deliver faster cycle times for product and service delivery?
What organizational competencies, technologies, and architectures will prevail as CIOs design and deliver innovative digital experiences?
How can you sustain customer-focused innovation while managing within the realities of your current business?
COLOCATED EVENTS
Forrester's Leading Digital Disruption Forum is colocated with Forrester's Forums for Application Development & Delivery Professionals and Business Architecture & Business Process Professionals. Attendees receive complimentary access to all sessions to allow you to network with more business leaders, bring additional team members, and access valuable additional content relevant to your challenges and responsibilities.
Connect With Forrester And Event Attendees
Twitter: #FORRForum
LinkedIn: Network with other attendees.
Blogs: Follow analysts covering your role.
Communities: Extend conversations through your role community.
Facebook: Stay connected through Forrester Events pages.
Who Should Attend?
This year's Forum will draw active participation from leading executives in the following roles:
CIOs/SVPs of IT.
CTOs.
CEOs.
Why Attend?
Compelling keynotes by industry executives and Forrester analysts.
In-depth track sessions designed for your role.
Personalized meetings with Forrester analysts.
Networking with more than 130 peers, analysts, and industry executives.
Technology solutions from leading agencies and solution providers.
Interested in attending ?
Download a letter to request approval from your manager