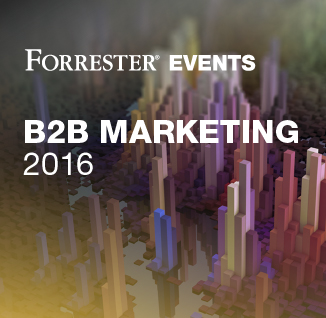 Explore New Tactics To Engage And Acquire B2B Customers
Digital technologies and marketplaces have empowered your B2B customers to move more freely than ever among suppliers and vendors. At the same time, new channels and platforms have redrawn your traditional routes to market, allowing your customers to bypass existing distribution networks.
B2B marketing and sales leaders will learn how to navigate this rapidly changing environment.
This Forum has Passed.
About The Forum
B2B MARKETING 2016 will leverage Forrester's deep research and front-line knowledge to help B2B marketers and sales professionals solve each of their key challenges, while a select faculty of real-world marketing leaders and practitioners will share their own insights and best practices.
Over the course of two days, we will help you to:
Deepen your understanding of the rapidly evolving B2B customer and teach you to deploy new data sources and techniques to capture, analyze, and anticipate their preferences and behavior.
Master the available go-to-market options among channels and platforms in today's complex and free-form B2B ecosystems.
Drive successful collaboration with your sales force and product teams, as well as the sourcing and management of the right external partners, suppliers, and vendors.
Quantify and measure the role of the brand in the increasingly information-rich environment of B2B marketing.
Create the right sales enablement vision and charter that will support revenue acceleration across, as well as between, the mix of marketing and sales channels.
Speaker Submission
Interested in submitting a speaker proposal for a Forrester Forum? Please fill out our submission form. If your submission is selected, a member of the Forrester Events team will contact you.
Who Should Attend?
C-level executives including:
Chief Marketing Officers
Chief Sales Officers
Chief Revenue Officers
VPs and Directors of:
marketing
sales
sales enablement
operations
channel marketing
demand generation
product or solutions marketing
buyer engagement
lead-to-revenue management