< View All Media Resources
CMOs Will Spend $118 Billion On Digital Marketing By 2021

January 18, 2017
Forrester forecasts that digital marketing spending will increase to $118 billion by 2021 — up from its original projection of $103 billion by 2019 — but will slow down overall as marketers emphasize high-quality brand experiences over costly, volume-based advertising strategies. According to Forrester's latest forecast, budgets will be reallocated to reflect this trend, as you can see in Figure 1 below.
Additional forecasts for the next five years include:
Paid search will continue to take up the majority of ad budgets, but the fading limelight of Google ads will restrain search advertising to an 8% compound annual growth rate (CAGR).
Display advertising, which includes digital video ads, will follow close behind paid search and receive the second-largest increase in ad dollars with a 13% CAGR.
Online video budgets have grown 114% since 2014 and 72% of media buyers will spare television budgets for more online video. The estimated 18% CAGR for video will see the steepest increase in ad spending.
Click here for more information, and please contact us if you'd like a copy of this report.
Shar VanBoskirk, Principal Analyst at Forrester:
"We are seeing a shift away from quantity, toward quality. Within the next five years, we anticipate investment in ad impressions going down. Instead, marketing budgets will go toward brand experiences, CX, and in-store experiences and knowledge of sales agents — the things that will help demonstrate brand promise. Many companies now are wasting impressions, which can annoy customers. It is important to determine user needs and tailor content appropriately. In addition, the structure of marketing and digital teams will shift as agencies take a more holistic and integrated approach to planning."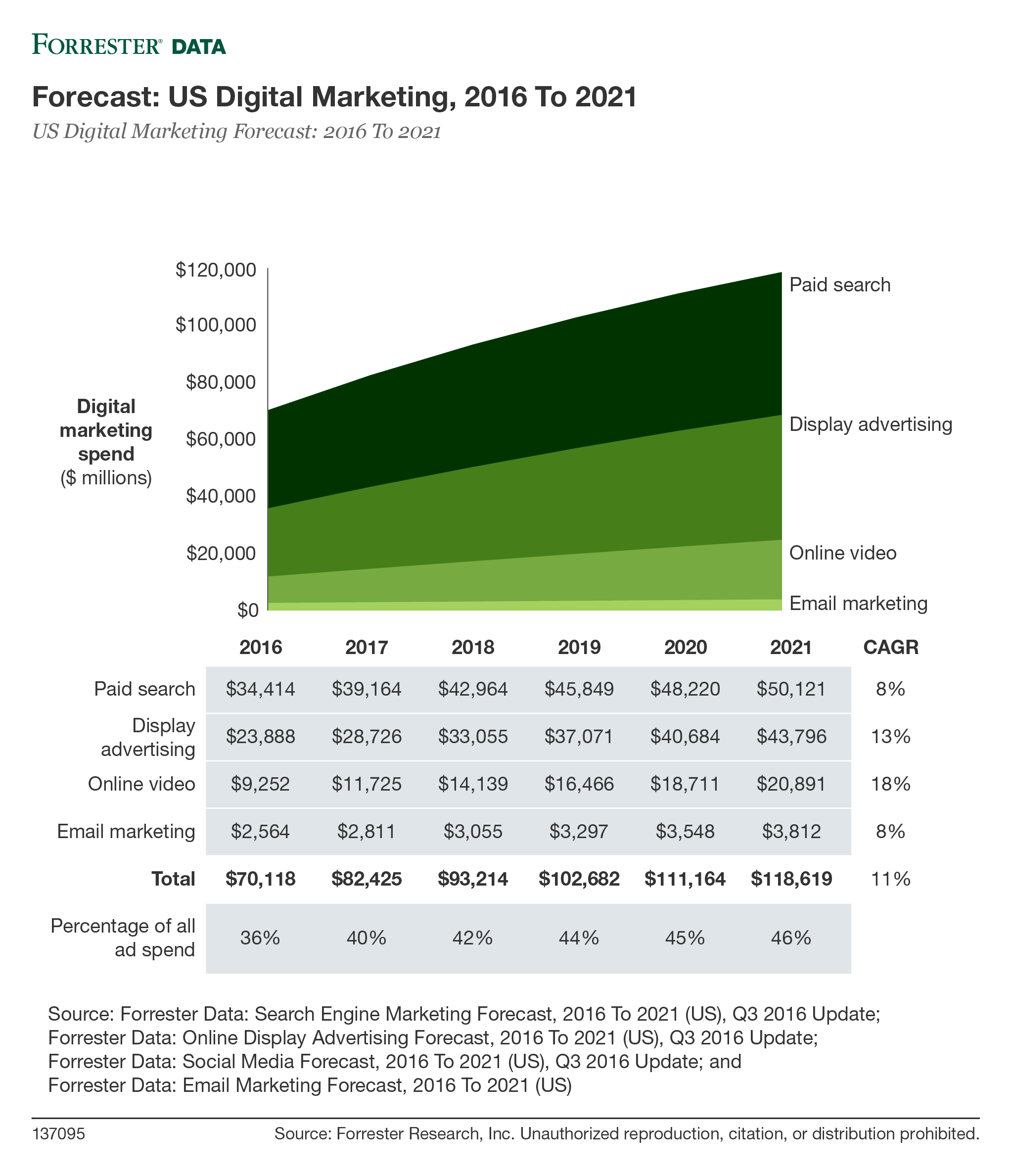 About Forrester

Forrester (Nasdaq: FORR) is one of the most influential research and advisory firms in the world. We work with business and technology leaders to develop customer-obsessed strategies that drive growth. Forrester's unique insights are grounded in annual surveys of more than 500,000 consumers and business leaders worldwide, rigorous and objective methodologies, and the shared wisdom of our most innovative clients. Through proprietary research, data, custom consulting, exclusive executive peer groups, and events, the Forrester experience is about a singular and powerful purpose: to challenge the thinking of our clients to help them lead change in their organizations.
CONTACT FORRESTER PR
+ 1 617.613.6000 (US and elsewhere)
+ 31 20.305.4876 (Europe)