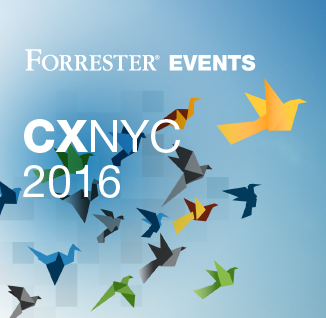 How To Play The Long Game
The nuts and bolts of basic customer experience (CX) programs are well understood — identify problems that hamper the customer's journey, fix them, repeat. But leading firms have long abandoned the "find and fix treadmill" — they play the long game, and that requires a fundamentally different set of chops. Join us to learn how executive leadership, customer understanding, design management, culture, and measurement function in high-performing firms that are in it to win it.
This Forum has Passed.
About The Forum
Today's CX leaders must create experiences that meet or exceed customer expectations to drive profits. To succeed, CX leaders must not just design outstanding experiences but also assemble the right ecosystems to deliver them while simultaneously demonstrating the business value of customer experience as a discipline and leading its adoption across the organization.
CXNYC 2016 showcases Forrester's most recent research to help CX pros plan, design, and manage experiences that create business impact. A select group of CX leaders and practitioners will also share their insights, lessons learned, and best practices. Over the course of two days, we will help you:
Understand the extent to which your firm should invest in CX.
Assess the value of your current customer understanding efforts.
Drive innovative experience design programs.
Develop an effective customer-centric culture that aligns with your CX vision.
Map the metrics necessary to manage your customer experience efforts.
Security Design
CXNYC 2016 will include a dedicated track focused on security design for immersive CX. We will explore security UX, mobile security, customer-focused IAM, biometrics, tradeoffs between CX and security, and consumer data privacy management.
Meet Executives From
Who Should Attend?
Chief customer officers.
VPs and directors of enterprisewide customer experience.
Senior-level executives responsible for digital channels.
Senior-level executives responsible for setting organizational strategy.
Senior-level executives responsible for driving consumer sales and profitability.
Marketing and strategy leaders charged with understanding customers' needs.
Why Attend?
Forrester Events are live experiences that showcase our best and newest research, with analysts and industry-leading speakers who inspire and challenge you to embrace change.
Learn from thought leaders. Gain fresh insights and actionable advice for your critical business initiatives.
Hear from your peers. Get inspired by industry speakers' success stories and network with peers who face challenges similar to yours.
Engage with Forrester analysts. Meet with our analysts to discuss how you can apply their insights in your organization.