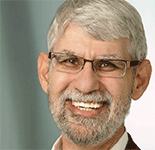 Chip Gliedman
Vice President, Principal Analyst
Sessions Featuring This Speaker
Forrester's Forum For Technology Management Leaders
05/05/2014
01:45 PM - 02:25 PM

How To Fund Your Business Transformation

Nearly all business transformations today are technology-dependent. Technology management leaders are in a unique position to work across business silos to influence, contribute to, and drive business transformations. To do this well, you need to understand the mechanisms for financing and funding these initiatives to drive growth and revenue. You need to know how to:

Build business cases that focus on outcomes to drive future tech investments.
Navigate funding models to align investments with strategy.
Bring an options mindset to your digital transformation efforts.
Research Focus
Chip serves CIOs. His research focuses on IT investment strategies, innovation, justifying technology investments, business technology alignment, and IT satisfaction. Chip developed the Total Economic Impact™ (TEI) model and program to help clients quantify and communicate the financial value of technology investments and strategies.
Previous Work Experience
Chip has 25 years of experience in the IT industry. He came to Forrester through its acquisition of Giga Information Group. Prior to joining Giga, he was director of business development for Passport Designs, where he managed both the customer service center and the direct sales organizations. Chip also held senior positions at Ingres, where he was group manager of desktop and Unix platform marketing, as well as Ingres' representative to the X/Open ISV council.
Chip has delivered presentations and workshops worldwide to audiences ranging from four to 400. His work on calculating and communicating the value of IT and IT projects was the subject of a cover story in PC Week and has been featured inBusinessWeek, CIO Magazine (US and Canada), InformationWeek (US and Germany), and numerous other business and trade publications. He has also appeared as a panelist on Silicon Spin with John Dvorak on ZDTV.
Education
Chip earned a B.A. in anthropology from Hamilton College.