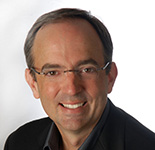 Chris Curran
Principal and Chief Technologist
Sessions Featuring This Speaker
Forrester's Forum For Technology Management Leaders
05/05/2014
Profile
Chris Curran is a PwC principal and Chief Technologist for the US firm's advisory practice, where he is responsible for technology strategy and innovation and the development of thought leadership on trends and innovations in technology. He works directly with senior executives on their most complex and strategic technology issues, helping to define the IT organization, deploy IT governance and management practices, and develop business and technical architectures. He works closely with CIOs on many of their most fundamental IT challenges.
Chris has global experience helping CIOs be more innovative and has helped design and lead the implementation of high-value technology initiatives that create tangible value for his clients. He leads the development and analysis of PwC's annual Digital IQ Survey, which measures how well companies understand the value of technology and leverage it to meet their business and customer needs.
Chris regularly contributes to and has been quoted in a variety of business and industry journals, including The New York Times, The Wall Street Journal, The Wall Street Journal CIO Journal, Financial Times, Forbes, CFO, and CIO. He regularly speaks on the topic of IT and innovation at industry conferences. In addition, he writes the CIO Dashboard blog, listed among BizTech's Top 50 Must Read IT Blogs.
Chris holds a Bachelor of Science degree in computer science from Texas A&M University. He is an active member of the Center for Information Systems Research at the Massachusetts Institute of Technology (MIT) and serves on the MIT Quarterly Executive Advisory Board.