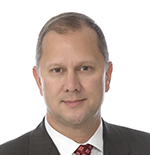 Dan Braunm
Vice President, Oracle Sales Academy, Performance Partners
Sessions Featuring This Speaker
Forrester's Forum For Sales Enablement Professionals
03/02/2015
Profile
Dan Braunm is Vice President, Oracle Sales Academy, Performance Partners, responsible for leading Oracle's global Performance Partner and Delivery teams focused on business alignment, needs analysis, deployment strategies, and delivery for all sales related training programs for Oracle.
Seasoned at both start-ups and large enterprises, Dan is an entrepreneurial and award-winning learning executive with over 20 years of experience in global education services. His breadth of knowledge, which encompasses the sale, delivery, development and innovation of education for high tech markets, also includes management of marketing, operations (both financial and technical), and P&Ls. Dan successfully leverages the power of blending formal learning with social collaborative and mobile application environments to develop innovative learning programs that can help drive product adoption, increase customer satisfaction and create competitive differentiators.
Prior to joining Oracle, Dan held several Vice President level positions in Education at CA Technologies and Siebel Systems. He received a Bachelor of Science degree in marketing and minor in international business from Miami University.