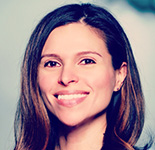 Delia Vallejo
Head of eCommerce and Digital
Sessions Featuring This Speaker
Forrester's Forum For Marketing Leaders
04/14/2015
Profile
Delia Vallejo leads the Digital and eCommerce organization for Keurig Green Mountain. She is responsible for digital strategy and for the direct-to-consumer P&L. Keurig.com is in the Internet Top 100 for online sales, and it is also a leading site for consumer satisfaction.
Prior to joining Keurig Green Mountain in 2013, Delia was a Marketing and eCommerce executive at Dell Inc. where she had an extensive record of achievement. She is a results-oriented leader with particular expertise in direct-to-consumer marketing and ecommerce strategy.
Delia Vallejo holds a Master of Business Administration (MBA) degree from Harvard Business School, and a Bachelor of Science degree in Economics from the Wharton School of the University of Pennsylvania. She is fluent in Spanish, and she spent several years working in Latin America.