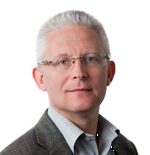 Dr. David Parrott
Senior Vice President, Global Head of Enterprise Architecture
Sessions Featuring This Speaker
Forrester's Forum For Technology Management Leaders
06/12/2014
Profile
Dr. David Parrott joined Thomson Reuters in 1997, where he is currently Senior Vice President and Global Head of Enterprise Architecture. Dr. Parrott's career has spanned R&D, technical product management, IT architecture, systems development, and technical governance, providing him with a valuable mix of customer interaction and IT strategy.
Before joining Thomson Reuters, Dr. Parrott ran development teams with Financial Times Information as an IT Architect and Development Manager in the market data business and also worked for British Telecommunications Research and Development Labs leading research into advanced information processing systems. His doctoral thesis was in the field of dynamic optimization of parallel workloads from functional programs.
Throughout his career, Dr. Parrott has maintained a clear focus on using technology as an accelerator for business strategy.