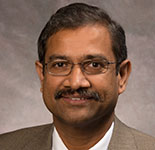 Dr. Vijay Bhuvanagiri
Group Head — Enterprise Architecture
Sessions Featuring This Speaker
Forrester's Forum For Technology Management Leaders
05/05/2014
Profile
Vijay Bhuvanagiri joined MasterCard in April of 2012. He designed and implemented the Business Centered Enterprise Architecture practice at MasterCard from ground up. This holistic EA approach received the prestigious 2013 Forrester/InfoWorld/ Penn State Enterprise Architecture Award. Prior to joining MasterCard, Vijay worked in the engineering, scientific computing, telecommunications, brokerage, and banking industries. Vijay was part of the team that introduced enterprise architecture discipline at A.G. Edwards, a St. Louis-based financial services company that is now part of Wells Fargo.
Vijay also founded a startup engineering consulting firm that focused on numerical and scientific computing. He also taught engineering courses at several universities.
Vijay holds a Ph.D. in engineering from Kansas State University, and he has a Master of Science in engineering from Indian Institute of Technology, Madras.