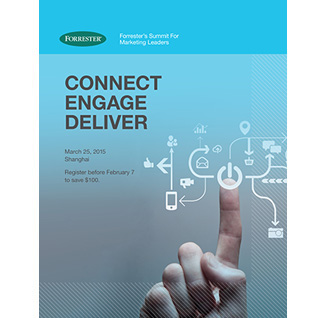 In the age of the customer, marketers face three acute strategic and operational challenges: how to powerfully and consistently connect with distracted, empowered customers; how to deeply engage customers once you make that connection; and how to consistently deliver on customer obsession throughout the organization.
This Summit will focus on real-world solutions to each of these critical challenges — which are particularly difficult in China, where traditional retailers and brands are far from prepared, and emerging digital service and platform providers are already disrupting your businesses.
This Forum has Passed.
About The Summit
Our program will deliver outcome-oriented analysis and advice, driven by Forrester's best research and detailed in case studies from industry leaders in China and around the world. You will leave this Summit knowing how to:
Master the key concepts and skills for brand leadership across the age of the customer.
Create seamless brand experiences across the digital and physical divide.
Lead a customer-obsessed marketing organization.
Over the course of this one-day Summit, we will help you:
Understand China's digitally empowered consumers and the disruptive strategies of BAT (Baidu, Alibaba, and Tencent), the top three digital service and platform providers in China.
Analyze the complexity of Chinese consumers' behavior on smart mobile devices, their expectations for the delivery of content over mobile, as well as real-world connectivity patterns.
Map your own detailed customer experience framework as the key to building a powerful digital ecosystem.
Master your options within the changing state of media in China, including the role of agencies and hot-button tactics such as programmatic and native advertising.
Design an effective customer data strategy, and identify the data and tools needed to succeed.
Navigate the countless cloud-based partners and platforms available.
Learn best practices in mobile, social, content, and utility marketing.
Who Should Attend?
Marketing leaders with brand responsibilities.
VPs and directors of marketing communications and media.
VPs and directors of digital and interactive marketing.
Senior marketing leaders responsible for marketing innovation.
Attendee Quotes
"I enjoyed the conference a lot. I have to say this is the best conference in China, with the highest quality of content and speakers."
"Great job with the conference. My colleagues and I walked away impressed."
"It was a perfectly organized Summit. Well done!"