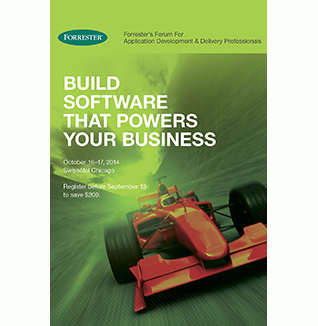 Build Software That Powers Your Business
In the age of the customer, winning requires innovation in customer engagement. And the key to innovation is software.
This Forum will help you identify new software opportunities and meet them head-on. It will empower you to deliver on your company's engagement strategies — by accelerating development processes, creating digital experiences, reaching mobile customers, and exploiting analytics and big data.
This Forum has Passed.
What Attendees Will Gain
Software is now both platform and product: Customers interact with your company through channels enabled by software, and software is increasingly embedded in every product or service you deliver. Software — and the data it controls — is now at the center of the customer engagement opportunity, an opportunity to be seized by AD&D professionals. Software development leaders and their teams must evolve from simply shipping code to delivering powerful, seamless experiences for customers, prospects, and partners, across the customer life cycle. You are no longer a services organization. You are now the engine of your company's revenue generation and customer loyalty.
At this Forum, you'll learn how to build software to power your business.
Why Attend
You'll walk away knowing how to:
Design processes, teams, skill sets, and architectures that deliver customer engagement, support business growth, and drive competitive advantage.
Turn big data and analytics into business strategies.
Design and deliver world-class digital and mobile solutions.
Who Should Attend?
VPs and directors of application development and delivery.
Leaders of enterprise, application, data, and solution architecture.
Technology decision-makers supporting sales and marketing.
Technology leaders of web, digital, and mobile initiatives.
Attendee Quotes
"The speakers were excellent and brought real-world successes and failures to light."
— 2013 Forum Attendee
"Absolutely outstanding with valuable insights and key takeaways."
— 2013 Forum Attendee
"Great examples of how to overcome long-standing cultural issues and implement Agile practices to get the job done."
— 2013 Forum Attendee