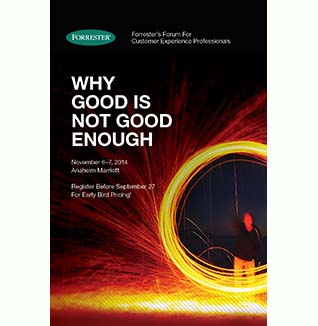 Why Good Is Not Good Enough
Welcome to a new, more competitive era for CX. From now on, it's not enough to think you know your customers — you have to really know what they care about most. What's more, you'll need to understand the critical roles that your people, processes, and technologies play in delivering a compelling experience.
At this Forum, Forrester will debut new research that reveals the drivers of customer experience quality — the factors that truly matter to customers.
This Forum has Passed.
What Attendees Will Gain
The data is in: The number of truly awful customer experiences is dropping like a rock. That's good news for consumers and business buyers alike. It's bad news, however, for the mass of companies that are now all "just average." They've lost their ability to use the same old customer experience to grow share of wallet, retain customers, and get recommendations.
At this Forum, you'll learn how to take charge of your customer experience ecosystem to create the new, more compelling experiences needed to differentiate your organization.
Featured Guest Speakers
Ryan C. Green
Managing Director Customer Strategy & Development
Southwest Airlines

Ryan Green is responsible for overseeing the award-winning Rapid Rewards frequent-flyer program, the airline's co-brand credit card relationship, and other key partnerships to develop a unique travel experience.

Jeff Donaldson
Senior Vice President
GameStop Technology Institute

Jeff Donaldson, who previously served as GameStop's CIO, has been an integral member of GameStop's leadership team for more than 14 years. He played a key role in the creation of GTI and GameStop's new IT structure.
Why Attend
You'll walk away knowing:
The key factors that you must focus on to achieve superior customer experience.
Which factors to move beyond.
Innovative approaches that differentiate your firm from competitors.
"Take charge of your customer experience ecosystem to create and deliver new, more compelling experiences for your customers."
John Dalton
Forum Host,
Vice President, Research Director
Forrester Research
Who Should Attend?
Chief customer officers.
VPs and directors of enterprisewide customer experience.
Senior-level executives responsible for digital channels.
Senior-level executives responsible for setting organizational strategy.
Senior-level executives responsible for driving consumer sales and profitability.
Marketing and strategy leaders charged with understanding customers' needs.
Attendee Quotes
"I loved the 1-On-1s, the vendors and the presentations."
— Patricia Byrne, Market Research Specialist,
Sacramento Municipal Utility District
"I thought it was a terrific event and well organized. Speakers were excellent."
— 2013 Forum Attendee
"Thanks for a great conference experience. . . . I learned a lot!"
— Clyde Guinn, President,
Days Inn World Wide