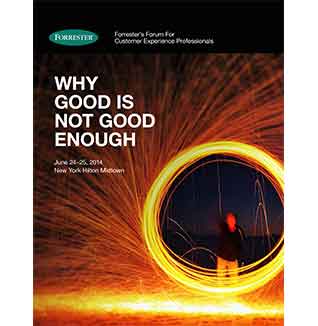 Why Good Is Not Good Enough
Welcome to a new, more competitive era for CX. From now on, it's not enough to think you know your customers — you have to really know what they care about most. What's more, you'll need to understand the critical roles that your people, processes, and technologies play in delivering a compelling experience.
At this Forum, Forrester will debut new research that reveals the drivers of customer experience quality — the factors that truly matter to customers.
This Forum has Passed.
What Attendees Will Gain
The data is in: The number of truly awful customer experiences is dropping like a rock. That's good news for consumers and business buyers alike. It's bad news, however, for the mass of companies that are now all "just average." They've lost their ability to use the same old customer experience to grow share of wallet, retain customers, and get recommendations.
At this Forum, you'll learn how to take charge of your customer experience ecosystem to create the new, more compelling experiences needed to differentiate your organization.
Featured Guest Speakers
Stephen Cannon
President, CEO
Mercedez-Benz USA
Stephen Cannon leads more than 1,900 employees and 362 dealers nationwide. Through his laser focus on providing an extraordinary customer experience, Stephen led Mercedez-Benz USA to an all-time sales record in 2013, regaining the crown as the #1 luxury brand in the United States.

John Maeda
Design Partner
Kleiner Perkins Caufield & Byers
John Maeda works with KPCB's entrepreneurs and portfolio companies to build design into their company cultures. His career bridges the intersections of graphic design, computer science, art, education, and leadership, earning him the distinction of being named one of the 75 most influential people of the 21st century by Esquire.
Why Attend
You'll walk away knowing:
The key factors that you must focus on to achieve superior customer experience.
Which factors to move beyond.
Innovative approaches that differentiate your firm from competitors.
"It's not enough to think you know your customers — you have to really know what they care about most to deliver a compelling experience."

Harley Manning
Forum Host
Vice President, Research Director
Forrester Research
Who Should Attend?
Chief customer officers.
VPs and directors of enterprisewide customer experience.
Senior-level executives responsible for digital channels.
Senior-level executives responsible for setting organizational strategy.
Senior-level executives responsible for driving consumer sales and profitability.
Marketing and strategy leaders charged with understanding customers' needs.
Attendee Quotes
"This was the best conference that I have ever attended in my career. The level of speakers that you brought to the platform was energizing. I walked away with the confirmation that where we are leading our customers is in line with everything discussed at the conference."
— Karen Imbrogno, Vice President, Vertical Practice Lead — Insurance,
KBM Group
"Great conference — speakers, conversations, and info shared!"
— Denys Villano, Director, Customer Experience,
Vertex
"I liked the mix of client case studies, Q&A, and Forrester analyst presentations."
— Amy Saunders, Director, GFO Digital Marketing,
J&J Consumer Group