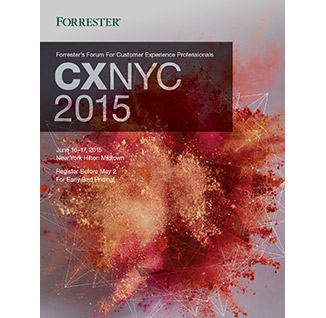 CXNYC 2015
CXNYC 2015 will accelerate your company's success in a competitive marketplace where customer experience (CX) determines the future of your brand. You will gain insights on CX trends from leaders from both B2C and B2B brands; have the opportunity to connect with your peers and share best practices; and hear Forrester analysts discuss their latest research findings.
No matter what your CX maturity level is you will gain valuable knowledge to help drive innovations that fuel profits and loyalty.
This Forum has Passed.
About The Forum
You will leave this Forum with a comprehensive understanding of how to improve your customer experience quality and increase your customer loyalty. You will learn how delivering the right customer experience can drive business results, create competitive advantage and fuel growth.
CXNYC 2015 will cover:
Emotion as a driver of great CX. Emotion is not just "feeling good" — emotional attributes of brands can be complex. The key is how to understand which emotions drive CX for your brand and how to create them.
CX and competitive advantage. Why does excellence in CX not always translate to competitive success? Why do some companies with great CX fail and others with poor CX thrive?
Innovation in digital CX. Learn how leading-edge companies are reinventing their digital user experience (UX) to define and deliver superior CX.
CX and leadership, organization, and culture. How do you create an organizational and leadership culture that supports and delivers excellence in CX?
CX and omnichannel. How can you overcome the challenges in achieving seamless and successful CX in an omnichannel strategy?
Speaker Submission
Interested in submitting a speaker proposal for a Forrester Forum? Please fill out our submission form. If your submission is selected, a member of the Forrester Events team will contact you.
Who Should Attend?
Chief customer officers.
VPs and directors of enterprisewide customer experience.
Senior-level executives responsible for digital channels.
Senior-level executives responsible for setting organizational strategy.
Senior-level executives responsible for driving consumer sales and profitability.
Marketing and strategy leaders charged with understanding customers' needs.
Why Attend?
Forrester Forums are live experiences that showcase our best and newest research, with analysts and industry-leading speakers who inspire and challenge you to embrace change.
Learn from thought leaders. Gain fresh insights and actionable advice for your critical business initiatives.
Hear from your peers. Get inspired by industry speakers' success stories, and network with peers who face challenges similar to yours.
Engage with Forrester analysts. Meet with our analysts to discuss how you can apply their insights in your organization.