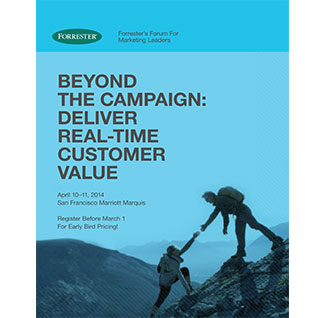 Beyond The Campaign: Deliver Real-Time Customer Value
In this age of the customer, marketing campaigns are dead. Why? Because people despise and distrust push-style marketing methods that interrupt or intercept them — 49% of consumers don't trust digital ads; 38% don't trust emails; and 36% don't trust information in branded apps. What consumers want is genuine value from their interactions with brands, but most marketers fail to deliver it.
This Forum will teach you the competencies and skills your organization will need to deliver genuine value to your customers and earn brand loyalty.
This Forum has Passed.
Event Overview
Consumers are exposed to a tremendous number of marketing messages. How can you break free from the rigid, batch-based campaign orientation that keeps you from delivering immediate value to your customers? By focusing on the utility — not the cleverness — of your programs. This isn't science fiction. It's a necessity for any marketer who wants to be relevant in the next digital decade.
Attendees will learn:
How the post-campaign era transforms brand building.
What utility marketing is and how it differs from campaign-based approaches.
How to launch programs that balance business objectives with customers' needs.
How to use marketing automation technology to deliver highly contextual, real-time interactions.
Featuring New Research
In addition to the latest content from our analysts, attendees will get a first look at two new Forrester Research Reports:
"Marketing Your Customers Can Use" by Melissa Parrish
Principal Analyst, Research Director, Forrester Research
People crave useful interactions, and they've grown agnostic about the source of that utility. Marketers who seize the opportunity to provide inherently useful experiences will embed their brand into customers' daily lives and become essential.
"The Power Of Customer Context" by Carlton A. Doty
Vice President, Group Director, Forrester Research
Most marketers cling to traditional campaigns even as the full potential of digital lies in real-time, two-way interactions with individual customers. Sustainable competitive advantage in the age of the customer will depend on marketers' ability to deliver self-perpetuating cycles of insight-driven interactions.
Connect With Forrester And Event Attendees
Twitter: Follow the Forum buzz at #FORRForum.
Networking: Network with analysts, speakers, and attendees during the many networking breaks throughout the day and during the event cocktail reception in the Solutions Showcase.
Mobile App: Customize your Forum schedule and connect with attendees.
Who Should Attend?
Marketing leaders with brand responsibilities.
VPs and directors of marketing communications and media.
VPs and directors of digital and interactive marketing.
Senior marketing leaders responsible for marketing innovation.
Why Attend?
Forrester Events are live experiences that showcase our best and newest research, with analysts and industry-leading speakers who inspire and challenge you to embrace change.
Learn from thought leaders. Gain fresh insights and actionable advice for your critical business initiatives.
Hear from your peers. Get inspired by industry speakers' success stories and network with peers who face challenges similar to yours.
Engage with Forrester analysts. Meet with our analysts to discuss how you can apply their insights in your organization.
Attendee Quotes
"It was an excellent chance to see industry-leading brands tell us why they are leading, how they think, and what they experiment with."
— Laurie Hermance-Moore, Associate Director,
Resource Interactive
"Very useful, actionable ideas addressing issues I have been grappling with. Lots to take back and share."
— Patricia Hudson, Senior Vice President,
Mechanics Bank