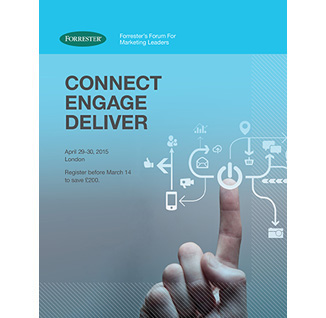 Connect
Engage
Deliver
In the age of the customer, marketers face three acute strategic and operational challenges: how to connect with distracted, empowered customers; how to engage customers once those connections are made; and how to nurture customer obsession as a strategic imperative throughout the organization.
This Forum will teach you how to build and lead a next-generation marketing organization focused on customer obsession.
This Forum has Passed.
About The Forum
This Forum will focus on real-world solutions to each of the critical challenges facing marketing leaders. Our agenda will deliver outcome-oriented analysis and advice, driven by Forrester's best research and detailed in case studies from industry leaders. You will leave this event knowing how to:
Master the key concepts and skills for brand leadership across the age of the customer.
Create seamless brand experiences across the digital and physical divide.
Lead a customer-obsessed marketing organization.
Over the course of two days, we will help you:
Understand the changing habits of digitally empowered consumers.
Adapt your marketing to the strategic and tactical implications of the new customer life cycle.
Master your options in increasingly complex marketing ecosystems.
Partner successfully with internal technology teams.
Navigate the countless cloud-based partners and platforms available.
Design an effective customer data strategy and map the data and tools needed to succeed.
Grasp new tools and strategies for marketing automation and campaign management, analytics, and attribution.
Learn best practices in mobile, social, content, and utility marketing.
Explore the changing state of media, including the role of agencies and hot-button tactics such as programmatic and native advertising.
Speaker Submission
Interested in submitting a speaker proposal for a Forrester Forum? Please fill out our submission form. If your submission is selected, a member of the Forrester Events team will contact you.
Who Should Attend?
Marketing leaders with brand responsibilities.
VPs and directors of marketing communications and media.
VPs and directors of digital and interactive marketing.
Senior marketing leaders responsible for marketing innovation.
Why Attend?
Forrester Forums are live experiences that showcase our best and newest research, with analysts and industry-leading speakers who inspire and challenge you to embrace change.
Learn from thought leaders. Gain fresh insights and actionable advice for your critical business initiatives.
Hear from your peers. Get inspired by industry speakers' success stories and network with peers who face challenges similar to yours.
Engage with Forrester analysts. Meet with our analysts to discuss how you can apply their insights in your organization.