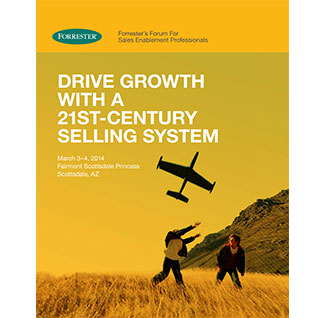 Drive Growth With A 21st-Century Selling System
The future of sales and marketing is now! Last-century approaches to growing revenues — content, hiring, training, leads, measurement — are suboptimized and broken. And given that customers now know more about what you and others offer, what value are you adding to growing revenues by focusing on your products? It's no wonder that 80% of executive buyers believe that sellers primarily have their own interests in mind or that only 20% take a second meeting.
To satisfy changing buyers, B2B businesses need to transform their current siloed, product-focused sales and marketing approach into a holistic, customer-problem-focused approach.
This Forum has Passed.
What Attendees Will Gain
Roll up your sleeves and engage with sales enablement leaders, industry experts, and Forrester analysts. At this Forum, Forrester will reveal a profitable new framework that will help you modernize your selling system. You'll leave this conference with the skills needed to:
Give your executives visibility into their selling investments and impact.
Achieve departmentwide alignment that supports revenue growth.
Make the jobs of those workers supporting sales clearer and easier.
Free up your sellers' time to sell more effectively.
Why Attend A Forrester Event
Accelerate your success. Through keynote and track sessions led by Forrester analysts, we deliver thought leadership and practical advice designed for your role that you can apply to your business challenges the day you return to the office.
Learn from your peers and other experts in the field. Industry speakers, who are dealing with the same challenges as you, will share their success stories and respond to your questions.
Engage with Forrester analysts. Through prescheduled 1-On-1 Analyst Meetings, you can engage with Forrester analysts to work through how to apply what you are learning at the Forum when you are back at your company.
Connect with peers. During discussions and roundtables or over a drink, share and gain knowledge and new perspectives from a network of peers — more than 300 delegates attend — facing similar challenges.
Get an exclusive first look at new research and survey data. Be the first to hear about Forrester's latest big ideas and survey results.
Connect With Forrester And Event Attendees
Twitter: Follow the Forum buzz at #FORRForum.
Networking: Network with analysts, speakers, and attendees during the many networking breaks throughout the day and during the event cocktail reception in the Solutions Showcase.
Mobile App: Customize your Forum schedule and connect with attendees.
Who Should Attend?
Sales Enablement Professionals and their teams.
Chief sales officers and sales managers.
VPs of sales and field operations.
VPs of channel sales.
Marketing leaders with sales results responsibilities.
Technology marketing professionals.
Strategy professionals.
Attendee Quotes
"The forum provided an excellent mix of strategic and tactical input that I can apply in building out the enablement road map for our company."
— Matt Boehnke, Director of Sales Enablement,
The Allant Group
"Great event! A great time of information & collaboration."
— Jim Jones, Director of Sales Enablement,
Brocade Communications Systems
"Excellent forum to build a community around sales enablement."
— Linda Broenniman, CFO,
XFI Corp