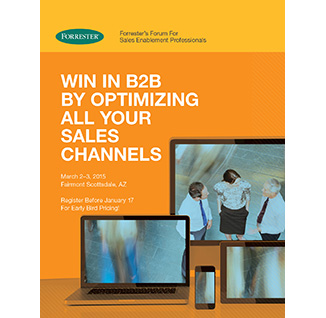 Win In B2B By Optimizing All Your Sales Channels
In the age of the customer, B2B sales and marketing leaders need to come together to create a customer-obsessed selling strategy. This Forum will deliver a unique strategic vision, matching Forrester's deep understanding of the rapidly evolving B2B buyer with powerful and actionable tools to achieve customer obsession throughout your enterprise and in your own B2B sales and marketing organizations.
This Forum has Passed.
About The Forum
Buyers today are more informed, have more choices, are digitally enabled, and have higher expectations of value. They will use the channel of their choice to research, interact, engage, and transact with companies. This includes direct sales and channel partners plus the increasingly preferred digital channels of the Internet and eBusiness.
This Forum will focus on real-world solutions to each of the critical challenges. Our agenda will deliver outcome-oriented analysis and advice, driven by Forrester's best research and detailed in case studies from industry leaders. You will leave this event knowing how to:
Create the right sales enablement vision and charter that will support revenue acceleration across, as well as between, the mix of marketing and sales channels.
Understand the new role of your direct sales force and be able to hire, train, and develop salespeople aligned to the channel preferences of empowered buyers.

Convey your enterprise's vision in context to each specific buyer and help buyers connect the dots between their needs and capabilities.
Over the course of two days, we will help you to:
Deploy the right content. Improve the quality and accuracy of information your sales force uses.

Inform the sales strategy. Help your sales force better understand clients' unique needs and create a clear path to navigate those accounts.

Optimize the conversations. Leverage platforms that help your sales force to effectively and efficiently communicate to each stakeholder involved in the buying decision.

Configure the right solution. Help your sales force identify, customize, and deploy the right sales enablement technologies.

Leverage social for sales success. Strengthen the intersection of social media and B2B selling to meet buyers on their terms along the journey.

Enable your channel partners. Learn what process improvements and technologies you should deploy to optimize channel partner enablement in the age of the customer.
Who Should Attend?
Sales enablement professionals and their teams.
Chief sales officers and sales managers.
VPs of sales and field operations.
VPs of channel sales.
Marketing leaders with sales results responsibilities.
Technology marketing professionals.
Strategy professionals.
Why Attend?
Forrester Events are live experiences that showcase our best and newest research, with analysts and industry-leading speakers who inspire and challenge you to embrace change.
Learn from thought leaders. Gain fresh insights and actionable advice for your critical business initiatives.
Hear from your peers. Get inspired by industry speakers' success stories and network with peers who face challenges similar to yours.
Engage with Forrester analysts. Meet with our analysts to discuss how you can apply their insights in your organization.
Attendee Quotes
"The forum provided an excellent mix of strategic and tactical input that I can apply in building out the enablement road map for our company."
— Matt Boehnke, Director of Sales Enablement,
The Allant Group
"Great event! A great time of information and collaboration."
— Jim Jones, Director of Sales Enablement,
Brocade Communications Systems
"Excellent forum to build a community around sales enablement."
— Linda Broenniman, CFO,
XFI Corp