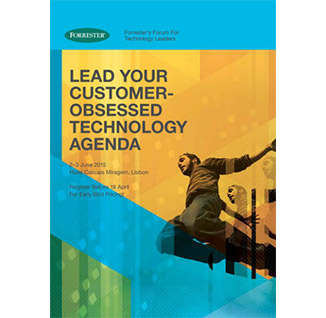 To win in the age of the customer, technology leaders must focus on fostering a culture of collaboration between your technology team and the rest of the organization and on embracing key technologies that power the customer-obsessed enterprise — what Forrester calls the "business technology (BT) agenda."
This Forum will focus on real-world strategies to enact the BT agenda at your organization.
This Forum has Passed.
About The Forum
Leaders at every size and type of enterprise now recognize that keeping pace in the post-digital age requires focusing your corporate strategy on the customer. We will focus on four specific categories of technology: customer life-cycle solutions, interaction platforms, digital delivery and aggregation, and infrastructure and content. Our agenda will deliver outcome-oriented analysis and advice, driven by Forrester's best analysts and from technology leaders from key industries. You will leave this event knowing how to:
Create a shared definition and view of customer obsession.
Centralize, operationalize, and distribute customer data.
Align strategic priorities so that technology innovation is focused on customers.
Prioritize your business technology to-do list to deliver relevant and consistent experiences to customers.
Drive the organizational and cultural changes required within your technology team to deliver on customer obsession.
Speaker Submission
Interested in submitting a speaker proposal for a Forrester Forum? Please fill out our submission form. If your submission is selected, a member of the Forrester Events team will contact you.
Who Should Attend?
Technology management leaders including:
Application Development & Delivery Professionals
CIOs
Enterprise Architecture Professionals
Infrastructure & Operations Professionals
Security & Risk Professionals
Sourcing & Vendor Management Professionals
Why Attend?
Forrester Events are live experiences that showcase our best and newest research, with analysts and industry-leading speakers who inspire and challenge you to embrace change.
Learn from thought leaders. Gain fresh insights and actionable advice for your critical business initiatives.
Hear from your peers. Get inspired by industry speakers' success stories and network with peers who face challenges similar to yours.
Engage with Forrester analysts. Meet with our analysts to discuss how you can apply their insights in your organization