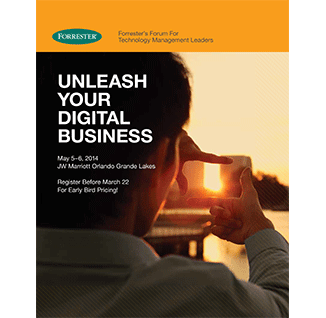 Unleash Your Digital Business
Approximately 700 of the companies currently on the Fortune 1000 joined the list within the past decade. That's double the turnover we saw just two decades ago. Why the shakeup? Tech-savvy customers and digital-native startups have changed the competitive landscape.
This Forum will provide technology management leaders the direction they need to help their firms transform into thriving digital businesses that embrace change as a matter of routine.
This Forum has Passed.
Event Overview
You need to equip your business with digital capabilities that permeate all sources of customer value — redefining your products, services, and sourcing strategies. Here's the kicker: It's got to happen fast and in a way that allows for more shifts down the road. Attendees will learn how to turn emerging technologies and processes into quick-win, high-impact digital capabilities — and in the process, reinvent their business technology organizations.
What Attendees Will Gain
At this year's Forum For Technology Management Leaders, five track sessions have been designed to teach you how to unleash your digital business.
For CIOs
Lead Digital Transformation: Turning your firm into a digital business requires wholesale change. What do digital businesses look like? Which key leadership, governance, and organizational issues must be tackled to make the transformation?
FOR ENTERPRISE ARCHITECTURE PROFESSIONALS
Define Agile Digital Strategies: Setting the right digital strategy and architecture ensures ongoing agility and customer engagement. How do you build links between digital experience and enterprise architecture?
FOR APPLICATION DEVELOPMENT & DELIVERY PROFESSIONALS AND ENTERPRISE ARCHITECTURE PROFESSIONALS
Develop Digital Solutions: The digital solutions you design and develop can make or break key customer touchpoints. Which emerging technologies and development approaches can boost your firm's digital experience?
FOR SOURCING & VENDOR MANAGEMENT PROFESSIONALS
Source Digital Services: Adopting the right sourcing strategy can help you move to digital in record time. How can you navigate the risks and dynamics of an ecosystem of new digital partners?
FOR INFRASTRUCTURE & OPERATIONS PROFESSIONALS AND SECURITY & RISK PROFESSIONALS
Manage And Secure Digital Assets: Enabling open and engaging digital experiences while properly managing and securing your digital infrastructure and data is the ultimate balancing act. Explore new approaches that challenge the infrastructure and security status quo.
Featuring New Research
In addition to the latest content from our analysts, attendees will get a first look at Forrester's not-yet-released book:
"The Mobile Mind Shift: Engineer Your Business To Win In the Mobile Moment" by Ted Schadler, Josh Bernoff, and Julie A. Ask, Forrester Research
Connect With Forrester And Event Attendees
Twitter: Follow the Forum buzz at #FORRForum.
Networking: Network with analysts, speakers, and attendees during the many networking breaks throughout the day and during the event cocktail reception in the Solutions Showcase.
Mobile App: Customize your Forum schedule and connect with attendees.
Who Should Attend?
Technology management leaders including:
Application Development & Delivery Professionals
CIOs
Enterprise Architecture Professionals
Infrastructure & Operations Professionals
Security & Risk Professionals
Sourcing & Vendor Management Professionals
Why Attend?
Forrester Events are live experiences that showcase our best and newest research, with analysts and industry-leading speakers who inspire and challenge you to embrace change.
Learn from thought leaders. Gain fresh insights and actionable advice for your critical business initiatives.
Hear from your peers. Get inspired by industry speakers' success stories and network with peers who face challenges similar to yours.
Engage with Forrester analysts. Meet with our analysts to discuss how you can apply their insights in your organization
Attendee Quotes
"The forums are a great opportunity to network with peers in various industries and gain insight into how they are solving problems that we all face."
— Kevin Garne, Freese and Nichols
"Another very fine forum with up to date topics and vibrant discussion. I always come away with several new ideas. Thank you!"
— Ken Refner, Director, IT Supplier Management, Apollo Group
"Very well designed to get valuable and actionable take away lessons and data for my organization."
— Nadir Ammour, Monitoring Systems and Data Flow, Head Of Data Flow, Sanofi Aventis group