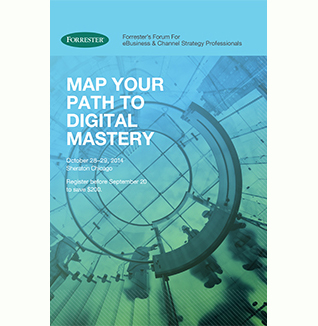 Map Your Path To Digital Mastery
Seventy-four percent of business executives say their company has a digital strategy, but only 15% believe their company has the skills and capabilities to execute. As an eBusiness professional, it's your job to close that gap. You must master dynamic new digital ecosystems of value, harnessing resources both inside and outside your company in order to win, serve, and retain customers.
At this Forum, Forrester will teach you how to create alignment and balance in your digital strategies — and in the process, transform both your operations and customer relationships.
This Forum has Passed.
What Attendees Will Gain
There are two paths to this kind of digital mastery. One focuses on customer experience and is often the more familiar path. The other emphasizes digital operational excellence. For eBusiness professionals, pursuing deep digital operational excellence can be an unfamiliar journey, yet it is powerfully transformational. It's more than a bolt-on strategy. It demands an enterprisewide commitment to customer-driven innovation, customer-centric business technology, and a new, agile approach to partnerships, internal and external.
Forrester will help you:
Discover new opportunities arising from your customers' digital ecosystems.
Build systems of engagement that leverage the new customer life cycle.
Lead your organization in achieving digital mastery.
New Forrester Report
At this Forum, Forrester will be releasing a new report "The Digital Business Road Map." Free to all attendees, this report includes insights from our recent survey of more than 150 eBusiness and channel strategy professionals on their digital transformation readiness and maturity and the latest from our ongoing consumer research.
Connect With Forrester And Event Attendees
Twitter: Follow the Forum buzz at #FORRForum.
Networking: Network with analysts, speakers, and attendees during the many networking breaks throughout the day and during the event cocktail reception in the Solutions Showcase.
Mobile app: Customize your Forum schedule and connect with attendees.
Who Should Attend?
eBusiness & Channel Strategy Professionals.
VPs and directors of eCommerce.
VPs and directors of eBusiness.
VPs and directors responsible for digital sales and service strategies.
Senior digital strategy leaders.
Attendee Quotes
"The forum was very informational and spurred a lot of ideas to bring back to my organization."
— 2013 Forum Attendee
"Good high-level thinking – tangible, actionable and relevant."
— 2013 Forum Attendee
"Very glad that I attended. Great information and very relevant."
— 2013 Forum Attendee