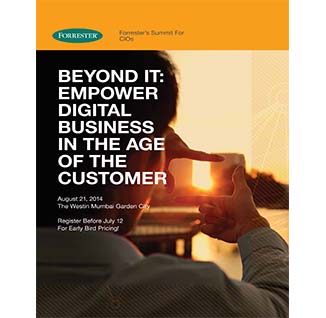 Beyond IT: Empower Digital Business In The Age Of The Customer
Over 75% of the companies currently on the Fortune Global 500 joined the list within the past decade. That's double the turnover we saw just two decades ago. Why? Tech-savvy customers and digital-native startups have changed the competitive landscape.
This Summit will teach you how to equip your business with digital capabilities that permeate all sources of customer value.
This Forum has Passed.
EVENT OVERVIEW
The traditional CIO used to focus on the design and deployment of internal systems that enabled enterprise success through better employee productivity, organizational intelligence, and process control. No more: Now the CIO is front and center in the development and deployment of products and services for your customers — products and services that must scale and drive growth with high availability at the lowest possible cost. Here's the kicker: It's got to happen fast and in a way that allows for more shifts down the road. Success requires new skill sets and a new mindset.
At this Summit attendees will learn:
The direction they need to help their firms transform into thriving businesses that embrace change as a matter of routine.
Ways in which to turn emerging technologies and processes into quick-win, high-impact digital capabilities — and in the process, reinvent their technology management organizations for the age of the customer.
Connect With Forrester And Event Attendees
Twitter: Follow the Forum buzz at #FORRForum.
Networking: Network with analysts, speakers, and attendees during the many networking breaks throughout the day and during the event cocktail reception in the Solutions Showcase.
Mobile App: Customize your Forum schedule and connect with attendees.
Who Should Attend?
Chief information officers
Chief technology officers
Chief architects
Senior IT leaders: general managers, senior vice presidents, vice presidents, and directors
Why Attend?
Forrester Events are live experiences that showcase our best and newest research, with analysts and industry-leading speakers who inspire and challenge you to embrace change.
Learn from thought leaders. Gain fresh insights and actionable advice for your critical business initiatives.
Hear from your peers. Get inspired by industry speakers' success stories and network with peers who face challenges similar to yours.
Engage with Forrester analysts. Meet with our analysts to discuss how you can apply their insights in your organization.