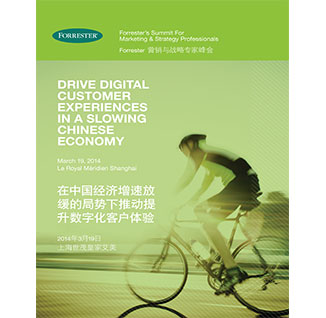 Drive Digital Customer Experiences In A Slowing Chinese Economy
The days of double-digit GDP growth in China are over. Your Chinese customers are more digitally connected than ever before. In the face of slowing economic growth, the one true, defensible competitive advantage is to become customer-obsessed. To do so requires you to change your approach to designing and delivering digital customer experiences.
At this year's Summit, you'll learn to assess how mature your organization is when it comes to customer experience models. We'll teach you how to transform your company's digital customer experiences to drive growth in a slowing economy.
This Forum has Passed.
WHAT ATTENDEES WILL GAIN
At this Summit, Forrester will teach you how to thrive in the age of the customer with a focus on digital customer experiences. You'll leave this Summit with the skills needed to:
Create truly compelling digital customer experiences that speak to the unique and rapidly evolving needs of your Chinese consumers.
Achieve digital marketing, sales, and service experience supremacy by advancing your organization's customer experience maturity.
Build a sales, marketing, and service ecosystem that seamlessly blends digital and traditional channels.
WHY ATTEND A FORRESTER SUMMIT
Accelerate your success. Through keynote and track sessions led by Forrester analysts, we deliver thought leadership and practical advice designed for your role that you can apply to your business challenges the day you return to the office.
Learn from your peers and other experts in the field. Industry speakers, who are dealing with the same challenges as you, will share their success stories and respond to your questions.
Engage with Forrester analysts. Speak with Forrester analysts to think through how you will apply what you learn at the Summit when you are back at your company.
Connect with peers. During discussions and roundtables or over a drink, share and gain knowledge and new perspectives from a network of peers — more than 200 delegates attend — facing similar challenges.
Get an exclusive first look at new research and survey data. Be the first to hear about Forrester's latest big ideas and survey results.
Connect With Forrester And Event Attendees
Twitter: Follow the Forum buzz at #FORRForum.
Networking: Network with analysts, speakers, and attendees during the many networking breaks throughout the day and during the event cocktail reception in the Solutions Showcase.
Mobile App: Customize your Forum schedule and connect with attendees.
Who Should Attend?
CMOs.
Marketing Leadership Professionals.
Customer Experience Professionals.
Customer Insights Professionals.
eBusiness & Channel Strategy Professionals.
Sales Enablement Professionals.
Attendee Quotes
"I enjoyed the conference a lot. I have to say this is the best conference in China, with the highest quality of content and speakers."
— 2013 Summit attendee
"Great job with the conference. My colleagues and I walked away impressed."
— 2013 Summit attendee
"It was a perfectly organized Summit. Well done!"
— 2013 Summit attendee