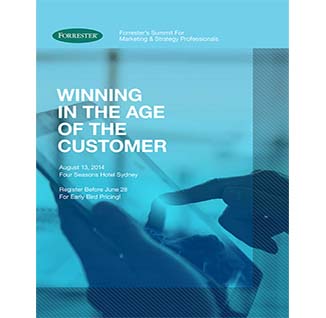 Winning In The Age Of The Customer
Empowered by digital platforms, your customers are free — free to act on their own needs and priorities, free to pick their own moments of engagement, free to design their own experiences — and free to ignore your own best efforts to shape and control all three. Forrester calls this new reality "the age of the customer."
In this age of the customer, the only sustainable competitive advantage is knowledge of and engagement with customers.
This Forum has Passed.
WHAT ATTENDEES WILL GAIN
At this Summit, Forrester will teach you how to thrive in the age of the customer with a focus on the four critical strategic imperatives:
Become a digital disruptor. All enterprises must absorb the new digital reality into processes and outcomes. But the best organizations will use digital to reinvent themselves, leap past their competitors — and redefine their industries.
Turn big data into business insights. The flood of real-time customer data can overwhelm. Organizations that can carve out actionable insights quickly, reliably, and repeatedly will be the ones that turn data to decisive advantage.
Embrace the mobile mind shift. Mobile technologies have fundamentally transformed customers' expectations and behaviors, and for good. You must be prepared to meet their needs in the moment, in the right place, on their terms.
Transform the customer experience. An empowered customer is a demanding customer, easily lost to challengers who are faster and more responsive. The good experience is no longer good enough. Only the exceptional will win.
Through keynote speeches and track sessions, you will learn how to align your business, teams, and processes for success in the age of the customer. You'll leave prepared to:
Build and deliver exceptional customer experiences.
Engage your customers at defining "mobile moments."
Capture and analyze the most critical customer data.
Organize and execute for digital disruption.
Connect With Forrester And Event Attendees
Twitter: Follow the Forum buzz at #FORRForum.
Networking: Network with analysts, speakers, and attendees during the many networking breaks throughout the day and during the event cocktail reception in the Solutions Showcase.
Mobile App: Customize your Forum schedule and connect with attendees.
Who Should Attend?
CMOs
Marketing Leadership Professionals
Customer Experience Professionals
Customer Insights Professionals
eBusiness & Channel Strategy Professionals
Sales Enablement Professionals
Why Attend?
Forrester Events are live experiences that showcase our best and newest research, with analysts and industry-leading speakers who inspire and challenge you to embrace change.
Learn from thought leaders. Gain fresh insights and actionable advice for your critical business initiatives.
Hear from your peers. Get inspired by industry speakers' success stories and network with peers who face challenges similar to yours.
Engage with Forrester analysts. Meet with our analysts to discuss how you can apply their insights in your organization