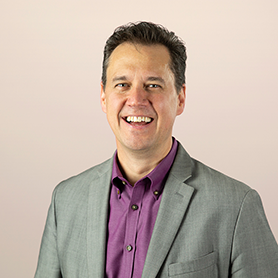 James McQuivey
Vice President, Principal Analyst
Sessions Featuring This Speaker
Forrester's Forum For Marketing Leaders
04/14/2015
08:40 AM - 09:10 AM

Will People Really Do That?

Fasten your seat belts, it's going to be a bumpy couple of years. True, your customers have just been through an unprecedented digital expansion of their technology-enabled abilities, but you — and they — ain't seen nothin' yet. Your customers will be considering adopting robots, driverless cars, all-body network technology, voice-control interfaces, and you as a marketer will have to decide what role you will play in these devices as they roll out. In this session, James will describe:

Why people will adopt more technologies even more rapidly than you think.
How to envision the customer relationship these devices will build — for you or your competitor.
What customers will do with these devices that will alter how marketers reach them.
Research Focus
James serves CMOs. He is the foremost analyst tracking and defining the power and impact of digital disruption on traditional businesses. His consumer models identify the ways consumers have embraced digital experiences and platforms, and his strategy models help companies prepare to serve those consumers. He applies this knowledge to a wide variety of industries, from consumer media to consumer technology, from financial services to retail and consumer products. In February 2013, James published his book Digital Disruption: Unleashing the Next Wave of Innovation.
Previously at Forrester, James served as a vice president and research director, running Consumer Technographics® North America, Forrester's unparalleled consumer research effort. In addition to keynoting at industry events and Forrester Forums, James is routinely sought after for comment by such publications as The New York Times and The Wall Street Journal. He also appears frequently on NPR and CNBC.
Previous Work Experience
James comes to Forrester most recently after teaching marketing research and media management at Boston University's top-rated College of Communication. In addition, he has served as research director at WGBH in Boston and as a graduate fellow at Syracuse University.
Education
James earned his Ph.D. in mass communication research at Syracuse University. He also holds an M.B.A. with an emphasis in marketing.