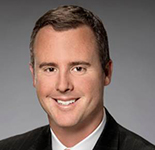 Jeff Chapman
Vice President, Enterprise Architecture & Data Services
Sessions Featuring This Speaker
Forrester's Forum For Technology Management Leaders
05/05/2014
Profile
Jeff Chapman has over 20 years of software development and IT management experience. As the Vice President of Enterprise Architecture & Enterprise Data Services at Capital One, his responsibilities include being the chief architect for the company and managing the IT data services delivery teams supporting all lines of business.
Prior to his current role, Jeff managed the digital and middleware development teams for the Direct & Retail Bank and Auto Loans businesses. He joined Capital One in 2012 when it acquired ING Direct USA, where Jeff oversaw IT development, architecture, and data services. Earlier in his career, he was the VP of Product Development for Applimation, a leading independent application data management provider. Prior to that, Jeff was the Director of IT Development for Wit Capital, an online investment bank that had a successful IPO in 1999.
In the nonprofit community, Jeff serves as a board member for the Delaware Financial Literacy Institute.
Jeff graduated in 1993 from UCLA with his Bachelor of Science in computer science and engineering.