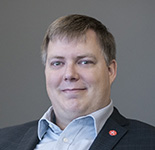 Jeff Holleran
Senior Director, Enterprise Product Strategy
Sessions Featuring This Speaker
Forrester's Forum For Technology Management Leaders
05/05/2014
Profile
As Senior Director, Enterprise Product Strategy, at BlackBerry, Jeff Holleran is responsible for leading the team that sets the product strategy and roadmap for BlackBerry's enterprise software offerings. Jeff has also held leadership roles in product management, technical sales and solutions development since joining BlackBerry in November, 2001.
Prior to joining BlackBerry, Jeff held senior IT positions in several large enterprise companies.
Jeff holds a Computer Engineering degree from Florida Institute of Technology.