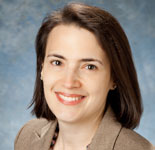 Jessica Saperstein
Division Vice President, Strategy & Business Development
Sessions Featuring This Speaker
Forrester's Forum For Customer Experience Professionals East
06/24/2014
Profile
Jessica is Division Vice President of Strategy and Business Development for ADP and Chairs ADP's Global Client Experience Program. In this role, Jessica is responsible for strategic planning, business development, growth initiatives and client engagement strategies.
Prior to joining ADP, Jessica worked in Marketing and Business Strategy at Wyeth Consumer Healthcare where she led the development of their global growth strategy. Previously, Jessica worked as a Strategy Consultant at Mercer Management Consulting.
Jessica received her MBA from Columbia Business School and completed undergraduate degrees in Business and Communications at the University of Pennsylvania.