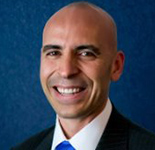 Karl Rottman
Director, IT Development, Enterprise Applications
Sessions Featuring This Speaker
Forrester's Forum For Technology Management Leaders
05/05/2014
Profile
Karl Rottmann, Director of IT Development, Enterprise Applications at Broadcom, leads more than 200 information technology professionals in software development (B2B, integrations, ERP/SAP, custom web apps, mobility), solution architecture, and operations. Since joining in 2012, Karl has led critical strategic service provider initiatives that have resulted in significant efficiency improvements for Broadcom.
During Karl's 20-plus-year career, he has held similar positions at other Fortune 500 companies in the container shipping, title and escrow, and financial industries.
Karl holds a Bachelor of Science degree in software engineering from the Universidad Francisco Marroquín in Guatemala.