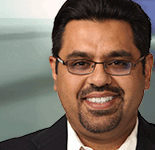 Khalid Kark
Vice President, Research Director
Sessions Featuring This Speaker
Forrester's Forum For Technology Management Leaders
05/05/2014
05:00 PM - 05:40 PM

Forrester's New Tech Management Balanced Scorecard

Technology management leaders need to rethink their existing metrics, measurements, and KPIs in the age of the customer. The traditional notions of operational excellence and efficiency are table stakes, and tech leaders will be measured on their contributions to customer experience and agility. Learn how to:

Identify customer-centric metrics.
Propose a framework to communicate these metrics to business leaders.
Drive accountability and culture change through metrics.
Research Focus
Khalid serves CIOs, leading the team responsible for delivering research and advisory services to IT leaders. He provides strategic guidance and advice to clients in the areas of organization design; governance, risk, and compliance (GRC); and emerging technologies. His research focuses on helping clients mature from an IT-centric role in their organizations to a business-embedded one. Khalid has extensive experience working with the government, healthcare, and financial services sectors.
Khalid has been widely quoted in the press, including such media outlets as MSNBC, The Boston Globe, CIO Magazine, and The Wall Street Journal. Khalid is a frequent keynote speaker at national and international conferences.
Previous Work Experience
Before joining Forrester, Khalid worked for a global insurance company where he provided leadership and direction for the information security program. Prior to this, he worked as a consultant and program manager at a telco, helping clients with IT strategy and architecture.
Education
Khalid holds master's degree in networks and telecommunications management from the University of Pennsylvania and a bachelor's degree in business and economics from the University of Texas at Austin.