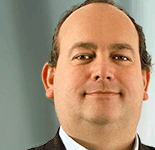 Luca Paderni
Vice President, Research Director
Sessions Featuring This Speaker
Forrester's Forum For Marketing Leaders
05/13/2014
09:00 AM - 09:10 AM

Beyond The Campaign: Deliver Real-Time Customer Value

09:00 AM - 09:10 AM

Beyond The Campaign: Deliver Real-Time Customer Value: Lessons Learned From The First Day

12:10 PM - 12:20 PM

Morning Closing Comments
Research Focus
Luca primarily contributes to Forrester's offerings for B2C Marketing Professionals. He is an expert on how senior marketers can take advantage of new advertising, communication, and service technologies to bolster their brands' health, deepen customer relationships, and, ultimately, increase sales.
His current research centers on upcoming trends and transformations in the media and advertising space that lead to increasing media fragmentation. By investigating the ways consumers have embraced digital experiences and platforms, Luca and his team help clients redefine their strategy models and better serve consumers.
He lends a strategic yet pragmatic perspective on the key trends affecting publishing and media buying; content strategy; the future of online, offline, and connected TV; and the blurring of the lines between product, service, and communication. Luca also leads our research on marketing mix optimization and guides CMOs and marketing leaders in their efforts to establish analytic systems to inform marketing spend and ROI.
Previously at Forrester, he was a Technographics® analyst and principal consulting analyst.
Previous Work Experience
Before joining Forrester, Luca was head of industry marketing for Google in Europe, the Middle East, and Africa (EMEA), looking after sales and marketing strategy for advertising products across verticals. In addition, Luca has more than 10 years of marketing and strategy experience at some of the world's largest and most important branded goods manufacturers, including Ferrero, Johnson & Johnson, L'Oréal, and Prada, working across Italy, France, Switzerland, Spain, and Russia. Luca is a regular keynote speaker at international marketing and media events.