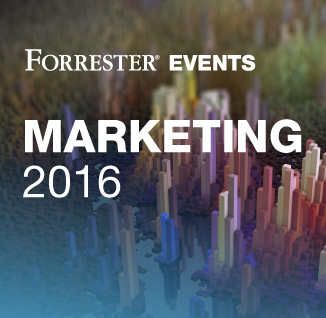 Deliver Your Brand Promise In Every Customer Touchpoint
As digital technologies empower independence and fragment attention, modern marketing teams must deepen their understanding of their rapidly evolving digital customers.
Marketing professionals will learn how to master available options for technologies, agencies, and suppliers in today's complex marketing ecosystems and orchestrate powerful marketing campaigns and tactics across multiple channels and platforms.
This Forum has Passed.
About The Forum
Today's marketing professionals must navigate a dramatically changing environment, rocked by three seismic forces:
New behaviors and expectations of customers as digital technologies empower their independence and fragment their attention.
New tools and technologies that are rapidly changing the day-to-day practice and effectiveness of marketing.
New skills and organizational demands that are remaking the modern marketing team.
MARKETING 2016 will leverage Forrester's deep research and frontline knowledge to help marketers understand each of these distinct challenges, while a select faculty of real-world marketing leaders and practitioners will share their own insights and best practices. Over the course of two days, we will help you:
Deepen your understanding of your rapidly evolving digital customers through the targeted application of new data sources and techniques.
Master the available options for technologies, agencies, and suppliers in today's complex marketing ecosystems, including cloud-based suites and platforms.
Drive successful collaboration with your internal corporate technology teams, as well as the sourcing and management of external partners, suppliers, and vendors.
Quantify and measure the role of brand in the increasingly data-driven practice of marketing.
Risk, Security, And Privacy
MARKETING 2016 will include a dedicated track focused on risk, security, and privacy for marketers. We will explore mobile security, malvertising, social media risk, consumer data privacy management, and identity management.
Meet Executives From
Who Should Attend?
Marketing leaders with brand responsibilities.
VPs and directors of marketing communications and media.
VPs and directors of digital and interactive marketing.
Senior marketing leaders responsible for marketing innovation.
Why Attend?
Forrester Events are live experiences that showcase our best and newest research, with analysts and industry-leading speakers who inspire and challenge you to embrace change.
Learn from thought leaders. Gain fresh insights and actionable advice for your critical business initiatives.
Hear from your peers. Get inspired by industry speakers' success stories and network with peers who face challenges similar to yours.
Engage with Forrester analysts. Meet with our analysts to discuss how you can apply their insights in your organization.