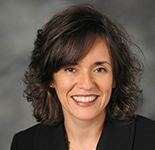 Martha Poulter
Chief Information Officer
Sessions Featuring This Speaker
Forrester's Forum For Technology Management Leaders
05/05/2014
Profile
Martha Poulter is Vice President and CIO of GE Capital, with global responsibility for the information technology strategy, organization, and delivery of customer value through technology.
Prior to this role, Martha was CIO of GE Capital, Americas. This business provides financing for equipment, inventory, and franchises; fleet services; and M&A buyout and restructuring capital to companies in over 40 industries, including healthcare.
Martha's career spans a range of information technology, eBusiness, and quality leadership roles at Southern New England Telephone Company and GE, including CIO of GE Capital Solutions, an equipment leasing and lending business, and the CIO and quality leader of GE Corporate Financial Services, a structured lending business.
Martha served for three years as the national co-leader of the GE Hispanic Forum. She is an active member of the GE Women's Network and a member of the board of directors for the Southern Connecticut Child Guidance Center and the Hispanic Federation. Martha graduated with a B.S.E. degree in computer science and engineering from the University of Connecticut and completed her MBA at the University of New Haven.