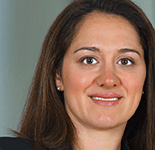 Megan Burns
Vice President, Principal Analyst
Sessions Featuring This Speaker
Forrester's Forum For Application Development & Delivery Professionals
10/16/2014
09:10 AM - 09:40 AM

What Drives A Great Customer Experience

According to the latest data from Forrester's 2014 Customer Experience Index (CXi) research, truly awful customer experiences are on the decline. But truly great experiences are still rare. What's holding companies back? This session will help you answer that question by exploring:


The link between customer experience and customer loyalty.
The drivers of a top quality customer experience.
What technology professionals can do to help the business deliver on what matters most to customers.
Research Focus
Megan Burns is a VP, principal analyst serving Customer Experience Professionals. She has spent more than 15 years helping companies use technology to make life better and easier for everyone. Megan joined Forrester's CX practice in 2006, focusing initially on measuring CX quality and understanding its link to financial results. In 2009 she shifted focus to the broader topic of CX maturity, publishing Forrester's CX Maturity Framework in 2010. That framework defines the essential habits that every company needs to design, deliver, and evolve CX in a disciplined way and is the foundation of the book Outside In.
Megan also leads Forrester's semiannual benchmark of CX quality at nearly 300 large US firms, called the Customer Experience Index (CX Index™), and she co-developed the CX Index methodology. She recently launched a new stream of research on the role of emotion CX based on the strong connection between emotion and loyalty in CX Index data.
As an accomplished public speaker, Megan frequently presents at events in the CX space earning top scores from attendees for her presentations. She has been quoted in media outlets like The Wall Street Journal, Forbes, Fortune, The Los Angeles Times, Internet Retailer, CRM Magazine, and B2B Magazine.
Previous Work Experience
Before joining Forrester, Megan spent several years defining online customer experiences for B2C and B2B websites at AT&T. She worked with lines of business to define key features for the carrier's eCommerce, online customer service, and online marketing websites and acted as the liason between development teams, business partners, and external design agencies. Prior to her time at AT&T, Megan spent time at both Intel and IBM as a software engineer.
Education
Megan holds a master's degree in software engineering from Carnegie Mellon University, where she specialized in user and business requirements. She also holds a Bachelor of Science degree in computer science from Rensselaer Polytechnic Institute.