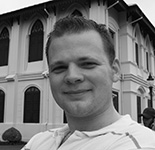 Mike Lamb
Director, Marketing Technology Strategy
Sessions Featuring This Speaker
Forrester's Forum For Technology Management Leaders
06/12/2014
Profile
Mike Lamb is the Director of Marketing Technology Strategy at Pfizer, where he is responsible for the technical strategy and implementation of Pfizer's Global Digital Marketing Platform.
The Pfizer Digital Platform has been developed over the past two years and hosts 400-plus websites deployed to more than 50 countries. The platform embraces continuous delivery methodologies, scaling to the digital demands of a global organization. The Drupal/Acquia platform is a foundational component, driving rapid innovation and cost savings by assembling web experiences using reusable components.
For the past 10 years, Mike has built and led successful teams at Wyeth and Pfizer, implementing leading multichannel marketing initiatives in markets around the world. He has held roles at the local, regional, and global levels, based in the UK, Austria, and the US.
Before joining the pharmaceutical industry, Mike worked on the agency side, implementing a range of open source technologies across multiple industries.